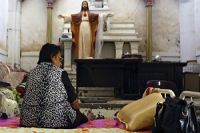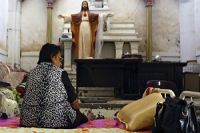 Iran's ambassador to Baghdad Hassan Danayee-Far in a meeting with representative of the Christians in the Iraqi parliament voiced Tehran's readiness to help reduce the problems and pains of the Christian refugees in Iraq's Mosul.
According to IRNA, Danayee-Far expressed regret over the tragic incidents caused by the attacks of the Takfiri terrorists of the Daesh or the so-called Islamic State in Iraq and Levant (ISIL) on the entirety of Iraq, including Christian minorities, and sympathized with the Iraqi nation on behalf of the Iranian nation.
He noted that Iran is ready to provide necessary help to alleviate the pains and problems of the Christian refugees, including treatment of the injured.
Thousands of Christian families have been forced to leave Mosul to other parts of Iraq after ISIL gave them a 48-hour deadline to convert to Islam, give fine or leave the regions controlled by the Daesh or they will be killed.