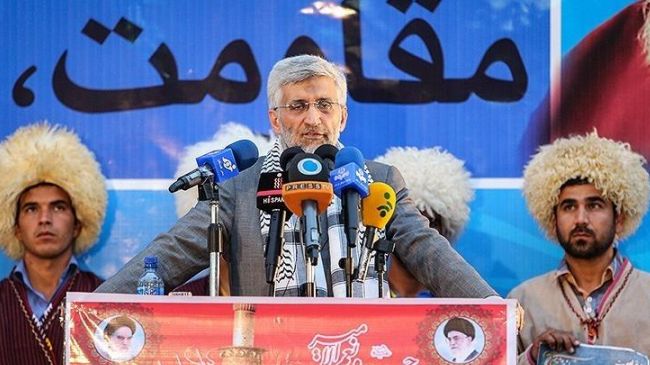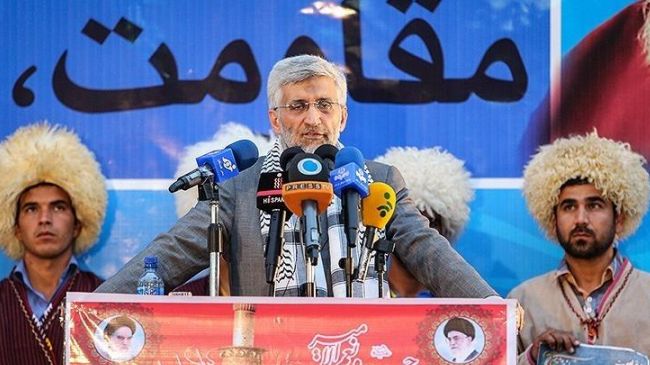 Principlist presidential candidate Saeed Jalili says the Islamic Republic of Iran is prepared to pay the price for supporting the Palestinian nation and the legitimate cause of Palestine.
Addressing a group of his supporters in the northern city of Gorgan on Tuesday evening, the secretary of the Supreme National Security Council said there might not be even one Shia Muslim in Palestine, but Iran is still ready to support Palestinians and their struggle for freedom and self-determination.
The chief nuclear negotiator said if he wins the June 14 presidential election, he will make good on his campaign promises, which include improving public welfare and following in the footsteps of Leader of the Islamic Revolution Ayatollah Seyyed Ali Khamenei.
Jalili is facing five rivals including President of the Expediency Council's Center for Strategic Research Hassan Rohani, Secretary of the Expediency Council Mohsen Rezaei, Tehran Mayor Mohammad Baqer Qalibaf, former Foreign Minister Ali Akbar Velayati, and former Telecommunications Minister Mohammad Gharazi.
The president of Iran is elected for a four-year term in a national election. Nearly 50.5 million Iranians are eligible to vote in the upcoming presidential poll.
– See more at: http://www.presstv.com/detail/2013/06/12/308611/jalili-defends-support-for-palestine/#sthash.5w9Kdtju.dpuf