Iran
Iraq
Middle East
Iran ready to reinforce Iraqi defenses: IRGC aerospace cmdr.
Iran is prepared to offer various types of assistance to reinforce Iraq's defensive capabilities, including the sharing of experience, says a senior Iranian military commander.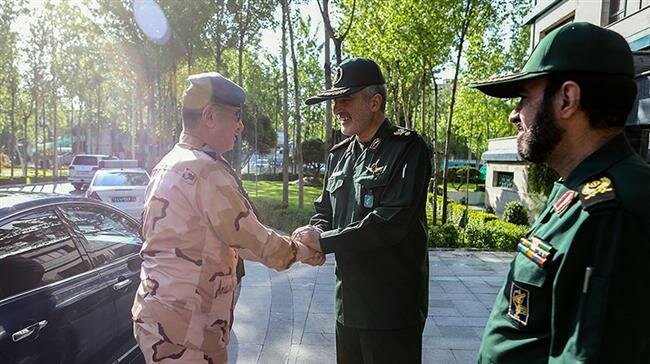 Amir Ali Hajizadeh, the commander of the Aerospace Division of Iran's Islamic Revolution Guards Corps (IRGC), made the remark during a meeting with the visiting Iraqi Air Defense Commander Lt. Gen. Jabar Obeid Kadhim Jabbar on Friday.
Jabbar traveled to Tehran at the head of a high-level military delegation to meet with senior Iranian commanders.
"Having secured the technology [required] for manufacturing various types of radars, command-and-control centers, ground-to-air missile systems, and electronic warfare equipment, the [IRGC] aerospace force is ready to provide the Iraqi defense forces with whatever assistance and experience," Hajizadeh said.
He stressed unity between Iran and Iraq and recalled that upon the start of an offensive by Daesh in Iraq in 2014, Washington had alleged that the battle with the Takfiri terrorist group would take 30 years, but when Iran and Iraq joined forces against the outfit, the length of that fight was reduced to only three years.
Iran's support for Iraq during the fight against Daesh began at the earliest stage of the group's onslaught in response to Baghdad's request, Hajizadeh said.
He enumerated some instances of the support as the dispatching of aircraft, logistical support, intensive training for Iraqi pilots, overhauls of warplanes, unmanned aerial missions, and the provision of battlefield intelligence.
"The enemies are after causing tension and division between these two great nations through an already-abortive effort, as well as by using psychological operations and malign propaganda," Hajizadeh said. However, "these good relations are a thorn in the side of the American, Israeli, and reactionary Arab regimes of the region," he added.
Jabbar, for his part, expressed Baghdad's gratitude to Tehran for acknowledging its request for assistance and its unstinting support.
He also stressed the further development of bilateral ties and the expansion of defensive, training, and operational cooperation between the two sides to reinforce regional security.