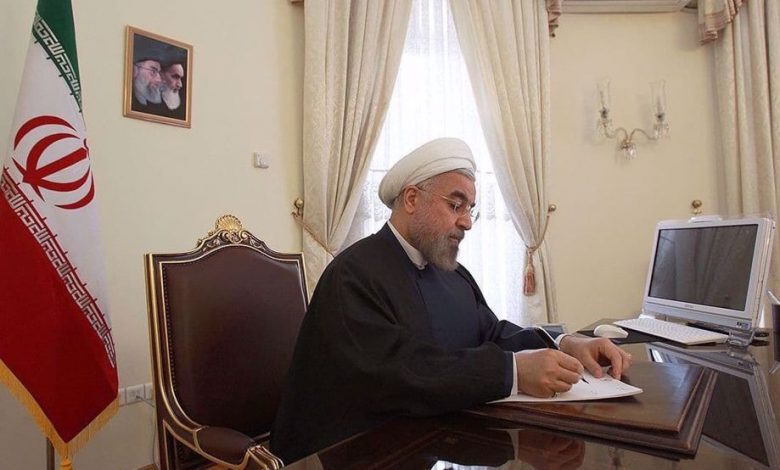 Rouhani made the remarks in a letter sent to his Lebanese counterpart, Michel Aoun, on Sunday.
Rouhani said Lebanon experienced tough days this year, but the country emerged victorious through "withstanding and resistance" under the guidance of its wise leaders.
Lebanon "showed to the world that the path of dignity, independence and prosperity is lasting under your presidency and that rapport and cooperation will continue among various political currents," he added.

"As in the past, the Islamic Republic of Iran stands by the resistant Lebanese government and people and is ready to develop bilateral cooperation in all fields."
Lebanon gained independence in 1943 after 23 years of living under a French mandate. The occasion, celebrated on November 22, is traditionally marked by a military parade in downtown Beirut, but this year all celebrations have been canceled due to the coronavirus pandemic.
The country is currently grappling with its worst economic crisis in decades as well as a political turmoil amid attempts by Western states to interfere in its domestic affairs.
Over the past year, Lebanese people have held mass protests demanding the departure of the ruling elite and an end to chronic economic mismanagement and corruption.
Prime Minister Hassan Diab resigned on August 10 over the August 4 deadly explosion that killed nearly 200 people and caused billions of dollars in damage. The blast took place in Beirut port warehouses storing highly explosive material, specifically ammonium nitrate, commonly used in both fertilizer and bombs.
Last month, Aoun tapped Saad Hariri, the embattled former premier who stepped down late in October 2019 amid anti-government protests, to again try to form a new cabinet that can lift the country out of the crisis.
In addition to political and financial woes gripping Lebanon, hundreds of individuals and entities have been sanctioned by the US, with the list focusing mainly on those with ties to the Hezbollah resistance movement.
The US restrictive measures on Lebanon have deteriorated the already struggling economy of the Arab country.