Iran
Middle East
Qasem Suleimani
Iran rejects 'baseless' US report of retaliatory assassination plan
Iran has vehemently dismissed a US report that Tehran planned to kill a US diplomat in retaliation for American assassination of General Qassem Soleimani.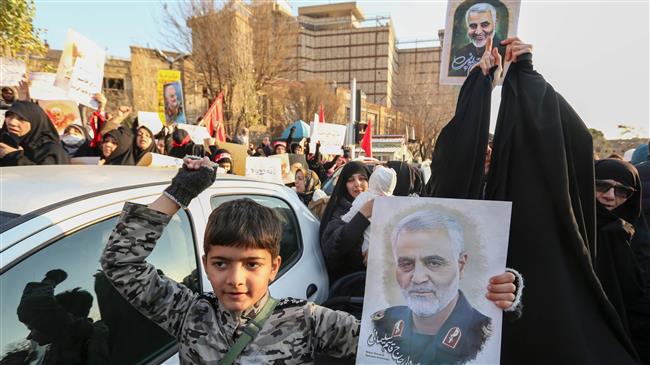 The outright rebuttal by Iran's Foreign Ministry spokesman Saeid Khatibzadeh on Monday came after Politico news website claimed that Iran had sought to assassinate US Ambassador to South Africa Lana Marks.
Khatibzadeh said the "biased and agenda-driven" report published in the American media outlet cited the statements of a seemingly US government official in an effort to make it appear true.
"We advise American officials to stop resorting to hackneyed and outworn methods to create Iranophobic atmosphere on the international arena," he said.
The article claimed to be based on US intelligence reports, allegedly seen by a US government official and another official familiar with the documents, stating that Marks had likely been chosen due to her closeness to US President Donald Trump.
Khatibzadeh said, "The Islamic Republic of Iran, as a responsible member of the international community, has demonstrated its continued adherence to the principles and customs of international diplomacy."
"In contrast, it is the United States and the current regime in the White House that, especially in recent years, has shown its disregard for basic diplomatic principles and become a pariah regime in the international arena with numerous actions outside the internationally-accepted methods and norms, including the design and execution of dozens of assassination plans and military and intelligence interventions, withdrawal from numerous international agreements, violation of territorial integrity and the cowardly assassination of General Qassem Soleimani, the glorious commander of the fight against terrorism."
On January 3, the United States used an armed drone to assassinate General Soleimani along with Abu Mahdi al-Muhandis, the second-in-command of Iraq's Popular Mobilization Units (PMU) and a number of their companions, outside Baghdad airport.
Iran responded to the terrorist act with a volley of ballistic missiles fired at at two US bases in Iraq, which left about 110 American troops injured.  
Khatibzadeh said, "The Islamic Republic of Iran, as it has repeatedly stated, will continue to pursue international legal action in connection with the criminal and cowardly assassination of General Soleimani at all levels, and will neither forgive nor forget this terrorist act."
The spokesman said baseless allegations such as the one published in the Politico are "part of the Trump administration's counter-intelligence campaign against Iran."
"The US regime's resort to anti-Iranian accusations and lies in the run-up to the US presidential election, and at the same time its pressure to abuse UN Security Council mechanisms to increase pressure on the Iranian people, was predictable.
"Nevertheless, such moves and news fabrications, probably to continue in the future, will certainly remain futile, adding to Washington's long list of ongoing failures against the Islamic Republic of Iran," he added.