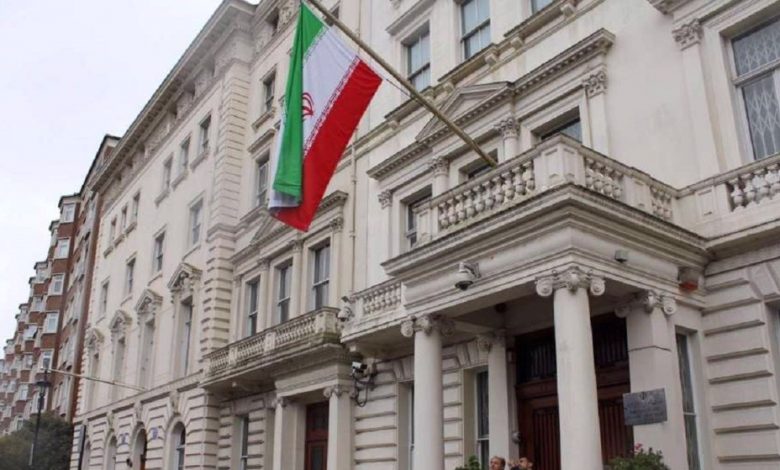 The Iranian embassy in London has dismissed as "baseless storytelling" a Guardian article alleging that Iran is involved in smuggling weapons to Russia to be used against Ukraine.
In a statement published via its Twitter account on Tuesday, the Iranian embassy said the Guardian's article, titled "Russia using weapons smuggling by Iran from Iraq against Ukraine," is an "unrealistic and baseless storytelling."
In its article, published earlier in the day, the British daily newspaper claimed Russia is receiving "munitions and military hardware sourced from Iraq" for its military campaign in Ukraine with the help of "Iranian weapons smuggling networks."
"Trying to link the recent developments in Ukraine to the developments in the Middle East and mentioning the name of the Islamic Republic of Iran is an unprofessional and unacceptable act and a kind of disrespect to the readers of the newspaper," the Iranian embassy said.
The Guardian also claimed that RPGs and anti-tank missiles, as well as Brazilian-designed rocket launcher systems, have been dispatched to Russia from Iraq "as Moscow's campaign has faltered in the last month."
"An Iranian-made Bavar 373 missile system, similar to the Russian S-300, has also been donated to Moscow by the authorities in Tehran, who also returned an S-300," the Guardian quoted a source as saying.
However, Iran's embassy lamented that while the Guardian is expected to publish the truth, the article did not live up to that expectation at all.
"We express our protest against this matter and demand the necessary action in this regard," it added.
Russian President Vladimir Putin announced a "special military operation" against Ukraine on February 24. The conflict has provoked a unanimous response from Western countries, which have imposed a long list of sanctions on Moscow. Russia says it will halt the operation instantly if Kiev meets its list of demands, including never applying to join NATO.
Since the beginning of the conflict, Tehran has emphasized that it rejects both war and sanctions, calling for diplomatic efforts to immediately end the war.
The Islamic Republic has also voiced readiness to cooperate with relevant international organizations in providing humanitarian assistance.
In remarks days into the military conflict, Leader of the Islamic Revolution Ayatollah Seyyed Ali Khamenei said the US regime was to blame for the Ukraine crisis, adding that Ukraine fell victim to the US's policies and the crises created by Washington.
Iran has always opposed war and destruction anywhere in the world, Ayatollah Khamenei said on March 1.