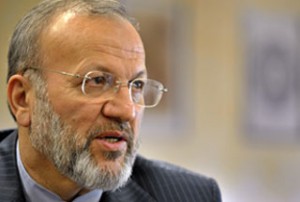 Iranian Foreign Minister Manouchehr Mottaki has dismissed the use of military action as the solution to the ongoing conflict in Yemen.
Speaking at a security conference in Bahrain on Saturday, Mottaki said the military action had only added fuel to the conflict, without yielding any result.
"The situation in Yemen does not have a military solution," Mottaki said, reiterating that a "peaceful approach" which combines talks with other non-military options was the only possible means to settle the conflict.
Mottaki said Iran supports the territorial integrity, security and the development of Yemen.
The Yemeni military has launched a major offensive, dubbed 'Operation Scorched Earth', against Houthi Shias in the northern sector of the country.
The government accuses the fighters led by Abdul Malik al-Houthi of seeking to restore the imamate system, which was overthrown in a 1962 coup.
The Houthis argue, however, that they are defending their rights against government marginalization, a policy which they believe has been adopted under pressure from Saudi-backed Wahhabi extremists.
The Saudi Arabian government has added to the problem by launching its own offensive against northern Yemen.
While Riyadh insists that it is targeting Houthi positions on 'Saudi territory', the fighters say Saudi Arabia is bombing Yemeni villages with chemical weapons and causing the death of Shia civilians.
The sixth Manama Dialogue summit kicked off with a focus on the security situation in the Persian Gulf. More than three-hundred delegates from 25 countries are taking part in the three-day summit.