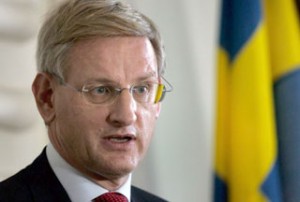 Tehran's prosecutor said in an interview on Sunday that a Swedish diplomat arrested in connection with the recent riots in the capital has been released after his identity was established.
"Iran's police arrested the charge d'affaires of the Swedish Embassy during the recent riots in Tehran on Ashura Day," Fars News quoted Abbas Jafari-Dolatabadi as saying.
"The consular official was later released after his identity was revealed," he added.
Jafari-Dolatabadi also pointed to the arrest of a Syrian reporter working for Dubai TV in Iran and said, "He was released from prison Sunday."
Reza al-Basha, a 27-year-old Syrian journalist was detained in Tehran on December 27.
Protesters took to the streets in Tehran on December 27, vandalizing public property, setting trash cans alight and clashing with the police.
They hijacked the Ashura ceremonies to chant slogans against top government officials.
Police used tear gas to disperse the rioters, and arrested a number of instigators. Deputy Police Chief Ahmad-Reza Radan said the force had not used violence against protesters.
In response, millions of Iranians took to the streets on December 30, 2009, condemning the desecration of the Ashura mourning ceremonies and demanding that the rioters be brought to justice.
Iran blames Western countries of masterminding and supporting the riots that erupted after the June 12, 2009, presidential election in the country.