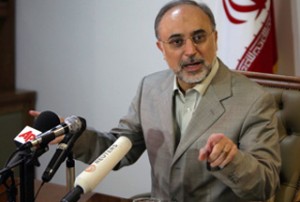 Iran's top nuclear official has reiterated that Tehran is ready to swap low enriched uranium with nuclear fuel on its southern Kish Island.
The head of Iran's Atomic Energy Organization (AEO), Ali Akbar Salehi, says there is no guarantee of a fuel exchange unless it takes place simultaneously "inside Iran and preferably on Kish Island."
For the first time, Iran's Foreign Minister Manouchehr Mottaki told a security conference in Bahrain on Saturday that the Islamic Republic could swap 400 kilograms of its low enriched uranium in the island.
"We are prepared to take 400 Kg of 3.5 percent enriched uranium to the Island of Kish and exchange it with an amount equivalent to 20 percent of the original batch," said Mottaki.
Iran needs the fuel for its Tehran Research Reactor that produces radioisotopes used in cancer treatment by over 200 hospitals in the country.
Salehi also went on to say that the West's behavior leaves Iran with no other option.
He added that Tehran would prefer the fuel swap to take place on Kish, because it's a trade free zone and doesn't require foreign visitors to obtain visas beforehand.
The US rejected Iran's proposal to swap nuclear fuel inside the country and is now instead threatening Tehran with tougher sanctions over its nuclear energy program.
On Tuesday, the US House of Representatives has overwhelmingly approved a sanctions bill against Iran.
Iran, a signatory to the nuclear Non-Proliferation Treaty (NPT) and a member of the International Atomic Energy Agency (IAEA), is running a nuclear program aimed at generating electricity for a growing population.
The West, however, accuses the country of seeking to develop nuclear weapons.
Iran has rejected the allegations and called for the removal of all weapons of mass destruction from across the globe.
The IAEA, which is constantly monitoring Iran's activities, says there is no evidence to prove Western allegations against Tehran.