Iran
Iran, Russia joining hands in countering US unilateralism: Defense minister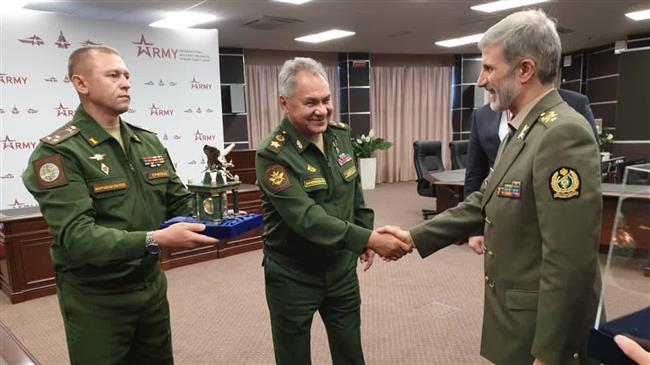 Iran's defense minister says Iran and Russia have been spearheading a joint effort during past years to counter US unilateralism in the region.
"During recent years, the Islamic Republic of Iran and Russia have been spearheading a purposeful and joint effort to counter unilateralism and bullying policy of the United States and the administration of [US President Donald] Trump in the region," Brigadier General Amir Hatami said in a meeting with his Russian counterpart, Sergei Shoygu in Moscow on Sunday.
Hatami lauded Russia's "constructive and positive stances" with regard to developments that have unraveled in the past few months, especially Moscow's opposition to a recent anti-Iranian resolution drafted by Washington, which aimed to restore UN sanctions on Iran and was unanimously rejected by the United Nations Security Council.
"The realistic reaction shown at the United Nations Security Council and its opposition to the recent anti-Iran resolution on extending an arms embargo against the Islamic Republic once again led to another big defeat for the US and its regional allies, and also proved the world's opposition to any hostile and wrong policy," he said.
The United Nations Security Council on August 14 unanimously rejected a US resolution to extend an arms embargo on Iran that is due to expire in October in line with a landmark nuclear deal, officially known as the Joint Comprehensive Plan of Action (JCPOA), that Iran clinched with six world powers in 2015.