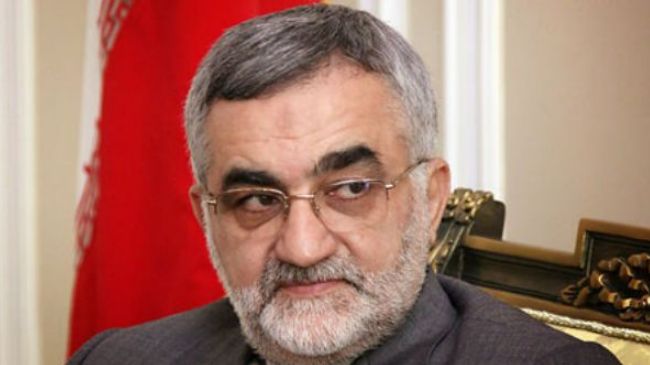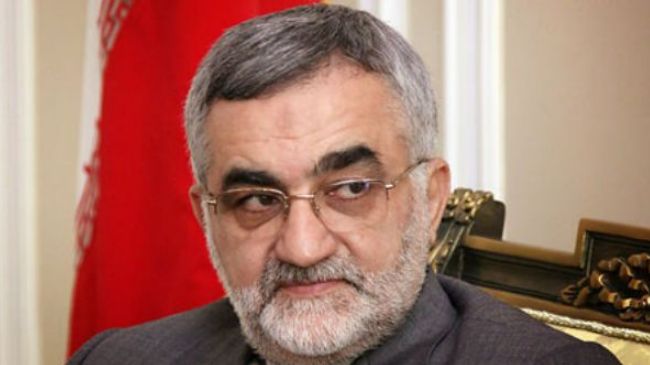 An Iranian lawmaker says close cooperation between Tehran and Moscow on Syria crisis has blocked the irrational and bullying policies of the United States and its allies in the Middle East.
Head of Iran Majlis Foreign Policy and National Security Committee Alaeddin Boroujerdi made the remarks at a meeting with Deputy Speaker of the Russian State Duma and Head of the Russia-Iran Parliamentary Friendship Group Nikolai Levichev in the Iranian capital city, Tehran, on Wednesday.
Boroujerdi added that the two countries should expand and strengthen their relations by adopting realistic policies.
The Iranian lawmaker also noted that Iran Majlis supports the promotion of parliamentary cooperation between Tehran and Moscow and stressed the importance of strengthening relations between the two countries in different areas.
Levichev, for his part, underlined the importance of Iran-Russia cooperation on regional issues including the Syria crisis, adding that this cooperation has prevented the US from applying the Libyan scenario to Syria.
He also pointed to the significance of developing relations between the parliaments of Iran and Russia, saying that such relations would pave the way for further activation of public and cultural diplomacy.
The Russian official further called for cooperation between the two countries' banks and private sectors in order to help facilitate the economic ties between Tehran and Moscow.
The four-member high-ranking delegation from Russia's lower house of parliament, the State Duma, arrived in Tehran on Sunday in order to meet with Iranian officials.
The Russian parliamentary delegation will leave Tehran for Moscow on Friday.