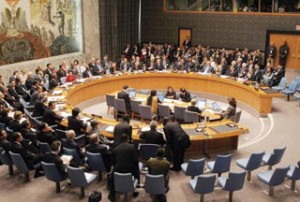 Western powers circulated a draft in the UN Security Council for new sanctions against Iran over its nuclear program, as the US-led campaign to win support for the measure appears to have failed.
According to The New York Times, the proposed sanctions would both broaden the three previous rounds of sanctions imposed on Iran for its nuclear enrichment activities and call for an outright ban on certain transactions with the country.
Iran, a signatory to the Nuclear Non-Proliferation Treaty (NPT), says its program is aimed at the civilian applications of the technology. The West, however, accuses it of seeking nuclear weaponry.
New sanctions would show that "the international community is united behind a diplomatic resolution to Iran's nuclear issue, and stave off any pre-emptive moves by others to resolve this issue by other means," British envoy to the UN Mark Lyall Grant told the 15-member council, AFP reported.
The British envoy, whose country is accused by Iran of interfering in its internal affairs following the presidential election in June, said the proposed new sanctions should impact the Tehran government's "policy calculations."
He, however, said the powers should also reaffirm their "willingness to continue to engage with Iran."
Tehran has welcomed negotiations but says it will not discuss its right, under the NPT, to enrich uranium.
Several UNSC members have expressed reluctance to support new punitive measures against Tehran. China, a veto-wielding member of the council, has repeatedly called for more dialogue to resolve the nuclear issue.
Russia, meanwhile, has said it prefers to avoid such a move.