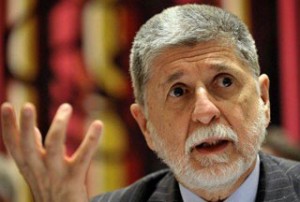 Brazilian Foreign Minister Celso Amorim has warned against imposing new sanctions on Iran, saying that Brazil wants to maintain its ties with the Islamic Republic.
Amorim stated that imposing a new round of United Nations sanctions on Iran would only radicalize Tehran.
"A regime like Iran's, with sanctions, will tend to radicalize, dig in its heels, joining opposition and government in a position of intransigence," Amorim told Brazil's Senate Foreign Relations Committee.
"The result of growing sanctions is that the country will become more isolated. Sanctions always hit the poorest people," Reuters quoted the Brazilian foreign minister as saying on Tuesday.
"It's not a question of Brazil being for or against Iran. Brazil is in favor of peace and negotiated solutions," Amorim said.
"Brazil wants to have relations (with Iran) like it does with other big countries," he stated.
Brazil has repeatedly called for a diplomatic solution to the standoff between Iran and the West over Tehran's nuclear program.