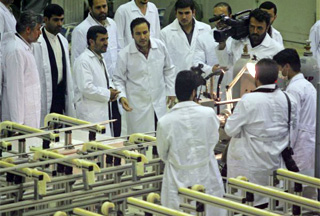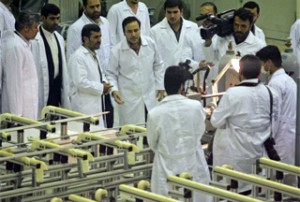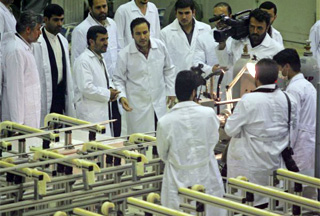 Iran said on Friday that it has designed and tested the country's third generation of domestically-built centrifuges as the nation celebrated its nuclear energy achievements.
The new centrifuges, each 200 millimeters in diameter, are ten times as powerful as the ones operating in the Natanz uranium enrichment plant.
The head of the Atomic Energy Organization of Iran (AEOI), Ali Akbar Salehi, made the announcement at a ceremony commemorating the annual national nuclear day.
"[The devices] have successfully gone through mechanical tests," he told an audience, including President Mahmoud Ahmadinejad, Joint Armed Forces Chief of Staffs Major General Hassan Firouzabadi and Secretary of the Supreme National Security Council Saeed Jalili, in Tehran's Milad Tower conference room.
The machine is capable of spinning 900 times per second and producing 10 kilograms of UF6 in a year.
Iran, a signatory to the Nuclear Non-Proliferation Treaty (NPT), says its nuclear program is aimed at the peaceful use of nuclear energy. The West, however, alleges the work is for developing the capacity to build atomic bombs.
Salehi added that the Ahmadinejad government had instructed the AEOI to look for locations where new enrichment facilities could be built.
President Ahmadinejad, speaking later, said 60,000 centrifuges of the new generation that are to be installed at the Natanz enrichment plant can fuel six nuclear power plants for a year.
After inaugurating its first nuclear power plant in Bushehr, Iran plans to build tens of plants to meet the growing electricity demand of its nation.
During the ceremony, a dummy fuel plate for a medical research reactor in Tehran was also unveiled.
A UN-backed proposal had envisaged that the fuel for the research reactor be provided by an international consortium in exchange for Iran's enriched uranium.
However, the proposal, although still on the table, is facing many obstacles as the West failed to meet Iran's demands as a buyer.
During his speech, President Ahmadinejad expressed his gratitude for Iranian scientists who had answered his call for making Iran a "nuclear nation."
On reasons why Iran is pursuing its nuclear objectives, Ahmadinejad said nuclear energy is known to be "cheap," compared to other sources of energy, and "clean" at the same time.