Iran
Middle East
North America
Palestine
Iran says UNSC rendered ineffective by US support for 'israel'
Iran says the US' continued support for Israel has weakened the United Nations Security Council, particularly in countering zionist occupation regime's expansionist policies.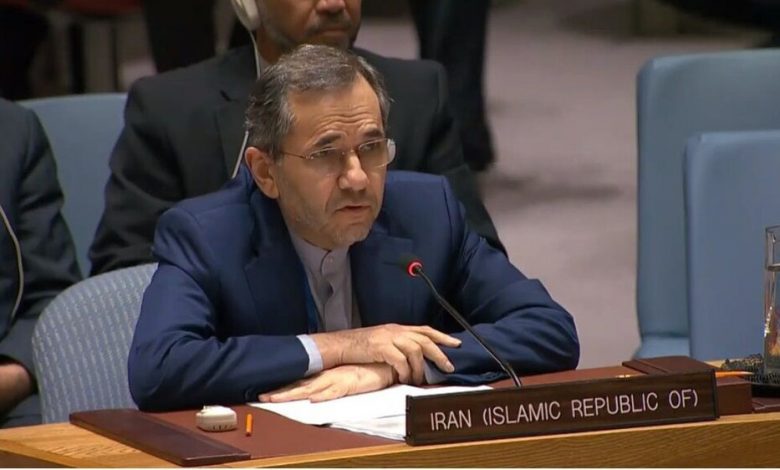 Iran's permanent representative to the United Nations said on Wednesday that Washington's "continued all-out unreserved support for the expansionist policies and unlawful practices of the Israeli regime" over the past seven decades has emboldened Israel to violate the basic principles of international law and commit more crimes with total impunity and more brutality.
The living examples of these crimes are "the continued construction and expansion of settlements, the sustained inhumane blockade of the Gaza Strip and systematic violation of the sovereignty of Syria and Lebanon in full contradiction with the UN Charter and international law," Majid Takht-e Ravanchi noted.
"The US, by abusing its status as the permanent member of the Security Council, has completely and systematically shielded the Israeli regime and, in practice, rendered the Council ineffective in countering the crimes of that regime," he added.
Addressing a virtual meeting of the Security Council on Palestine, the Iranian envoy said the US support for Israel's policies has continued unabated in flagrant violation of the basic principles of international law, disregarding all standards of international conduct, and crossing all principles of humanity and morality.
He said Israel, by implementing its plan to annex significant parts of the occupied Palestinian territory, will open a new chapter in its continued oppression and crimes.
"The occupation and acquisition of territory by force is prohibited and inadmissible under international law. This is a peremptory norm of international law from which no derogation is permitted. Annexation of parts of the occupied Palestinian territory would be a gross violation of the basic principles of international law and the UN Charter," he noted.
Addressing the same meeting, the United Nations secretary general and the Arab League chief also called on Israel to abandon its plans to annex parts of the occupied West Bank, with European lawmakers warning of "consequences" in case Tel Aviv moved forward with its project.
Secretary General Antonio Guterres repeated his call on Israel to "abandon its annexation plans". Arab League Secretary General Ahmed Aboul Gheit also said annexation "will destroy any prospect for peace in the future."
"The possible move by the Israeli government to annex parts of the occupied Palestinian territory would constitute, if implemented, a serious threat to regional stability," he added.
The UN coordinator for the Middle East, Nickolay Mladenov also warned that annexation "could irrevocably alter the nature of Israeli-Palestinian relations."
"It risks up-ending more than a quarter of a century of international efforts in support of a future viable Palestinian state living in peace, security and mutual recognition with the State of Israel," he said.
Israeli prime minister Benjamin Netanyahu has announced that he would start plans for annexing more areas in the occupied West Bank on July 1 in accordance with US President Donald Trump's scheme.