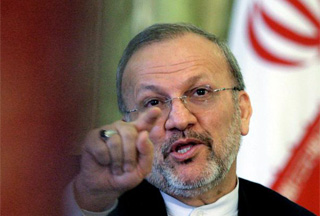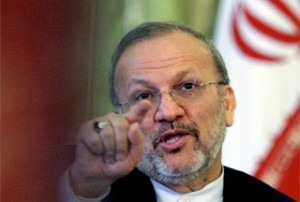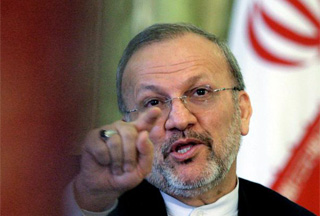 Iran's foreign minister warns the UN Security Council that penalizing a state "for a crime it has not committed" just to appease two powers will undermine the body's status.
"We hope that the UN Security Council will act in a logical way. It is up to the UN Security Council, itself, to maintain its standing by adopting a correct and logical approach," Manouchehr Mottaki told reports during a press conference on Wednesday he added.
Mottaki said that certain powers within the Security Council, such as the United States, were trying to pressure other members into imposing sanctions against Iran.
"When you turn every mechanism in the world into a [political] tool, when you desecrate everything, your word will no longer carry any weight," he went on to explain.
He then questioned the Council's lack of action toward Israel over its nuclear weapons and criticized the body for taking no serious action against the regime during its "barbaric" assault on Gaza in 2008-2009 or its similar attack on Lebanon three years ago.
Mottaki said that showed the UN Security Council's discriminatory nature.
"Where was it ever proven that Iran has nuclear weapons? Those [weapons of mass destruction] that you proved [existed] with your resolutions and then went on and dug up a country to find them, were never found," he said, drawing on the claims of Iraq possessing chemical weapons and the consequent US-led war on the country.
"[US] leaders of the time must come and answer for what they did, if the courts are not just a sham. So, we believe it is the UN Security Council that is facing a challenge [not Iran] and we are hoping that they do not give into pressure imposed by two certain members."
However, Mottaki did point out that "even if they do take the previous mistaken course" they would "achieve the same results."
"Imposing sanctions on Iran would be like taking the wrong path that [former US President George] Bush already tried out and proved a failure," he said.
Mottaki said that Washington, itself, recognizes that sanctions "do not work on Iran."
"Five years ago they issued these resolutions against us. We, however, have progressed in the economic arena. All these steps that we have taken forward amid a global economic crisis, the eight percent growth, the lower unemployment rates, and the export boost from 7 to 8 billion dollars to 22 billion dollars, were all achieved under the shadow of sanctions," he noted.
The US and its allies accuse Iran of using its civilian nuclear program, as a cover for pursuing military objectives.
Iran, however, strongly denies that claim, reasoning that the UN nuclear watchdog, which is constantly monitoring its activities, has found nothing to support such allegations.
But that has not stopped Washington from trying its best to impose another round of United Nations Security Council (UNSC) sanctions against Iran.
From Tehran's perspective, the sanctions are illegal as they aim to deny the country its right to enrich uranium for civilian use, in contradiction with nuclear Non-Proliferation Treaty (NPT) regulations.