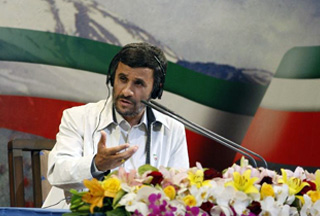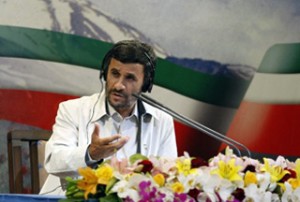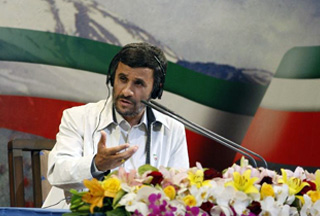 Iran's President Mahmoud Ahmadinejad says nuclear-armed states such as the United States should be removed entirely from the IAEA and its Board of Governors.
The "Nuclear Energy for all, Nuclear Weapons for None" disarmament conference kicked off in Tehran on Saturday with President Ahmadinejad outlining his vision of a world free of nuclear weapons.
President Ahmadinejad, in an address to the two-day international conference, said that the United States and its vast arsenal of atomic warheads, is delaying the long-awaited prospect of global nuclear disarmament.
He further added that Washington's ongoing development of atomic weapons as part of a so-called deterrence policy has been the main reason behind the proliferation of weapons of mass destruction in recent years.
"Washington has not only applied nuclear weapons against other nations, but has for years threatened to use weapons of mass destruction against world countries in order to gain the upper hand," explained the Iranian President.
With that in mind, Ahmadinejad said "such countries [which continue to threaten countries with the use of nuclear weapons to this day] should be stripped of their membership to the International Atomic Energy Agency (IAEA)."
"They have no place [in the UN nuclear watchdog] or its Board of Governors," he noted.
Ahmadinejad went on to call for the launch of an independent supervision committee to oversee global nuclear disarmament in the international community.
"What we need today is an independent international body to prevent proliferation and supervise the process of nuclear disarmament," he asserted.
On this note, Ahmadinejad said all nations are entitled to feel safe from the looming nuclear weapons threat, however, such sense of security has been a luxury some countries have yet to enjoy.