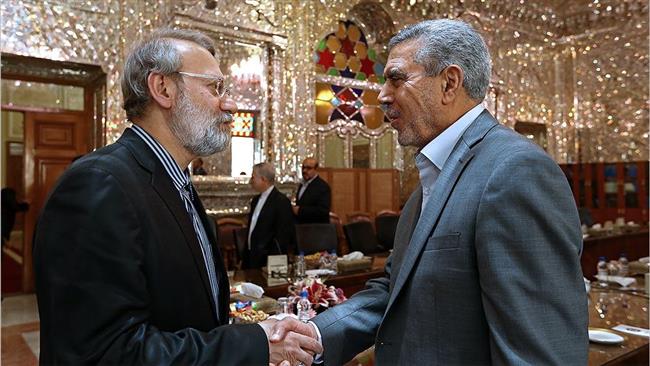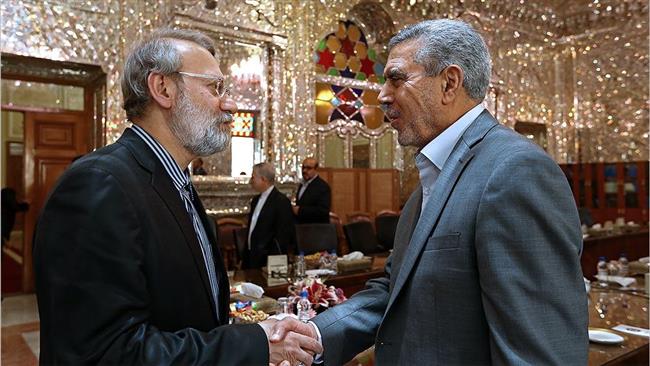 Iranian Parliament Speaker Ali Larijani has stressed the importance of bolstering cordial relations among Muslim and Arab countries, saying the Islamic Republic seeks a stable and secure Iraq.
"The existence of a secure and stable Iraq with full prosperity for all the country's people…has always been sought by the authorities and nation of the Islamic Republic of Iran," Larijani said in a meeting with former Iraqi vice president, Khazir al-Khazaei, in Tehran on Sunday.
He added that Iran is prudently working toward reinforcing amicable relations among Muslim and Arab countries "but some countries in the region must behave constructively."
The top Iranian parliamentarian emphasized that unity among all Iraqi groups to counter the country's political, economic and security crises is a "fundamental necessity."
Larijani expressed hope that prosperity and peace would be established in Iraq through unity and consensus among various political groups and said Tehran is prepared to share its experience with Baghdad in this regard.
The Iraqi official, for his part, said the two countries have various religious, cultural and geographical commonalities and enjoy strong relations based on mutual respect and observance of common interests.
Khazaei further added that Iraqi army soldiers and pro-government fighters from the Popular Mobilization Units are engaged in a serious and all-out fight against Daesh terrorists inside the country, particularly in and around the strategic city of Mosul, and hoped terrorism would be eliminated in Iraq soon.
He also commended Iran's effective role in restoring stability and peace in Iraq.
After months of preparation, Iraqi army soldiers, backed by pro-government fighters from Popular Mobilization Units and Kurdish Peshmerga forces, launched an operation on October 17 to retake the strategic city of Mosul from the Daesh terrorists.
Iraqi Prime Minister Haider al-Abadi has vowed that Mosul, Iraq's second largest city, will be fully recaptured by year-end.
Khazaei meets Iran FM
The former Iraqi vice president also on Sunday held talks with Iranian Foreign Minister Mohammad Javad Zarif.
Khazaei briefed Zarif on the latest political developments in Iraq, particularly the battle against Daesh terrorists.
The two sides also exchanged views on other issues in the Middle East.