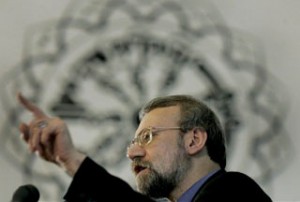 Iranian Parliament Speaker Ali Larijani says the Islamic Republic has not seen any strategic change in the US attitude toward Tehran.
"We will continue to defend our national interests based on the past policies of the United States toward Iran," he told reporters in Tehran on Monday.
Iran has urged President Barack Obama to pursue a new approach.
Iranian officials believe Obama has made positive statements about Iran but is not practicing what he preaches.
"The speeches of Obama at the beginning of his presidency were showing signs of changes, but we announced at that time that the remarks need to be put into practice," Larijani said.
He went on to say that Tehran's policy toward Washington is "absolutely transparent".
Some of the measures Obama has taken on international issues are just tactical since the US policies toward Iran, Afghanistan, Iraq, and Palestine have not changed, the Majlis speaker observed.
Larijani added that the Islamic Republic will make a decision about the resumption of ties with the US based on its national interests.
Washington cut its relations with Tehran in 1980 in the aftermath of the US embassy takeover.
Obama has vowed to engage Tehran in direct diplomacy in order to resolve the disputes with the Islamic Republic, but Iran says it has seen no concrete action.