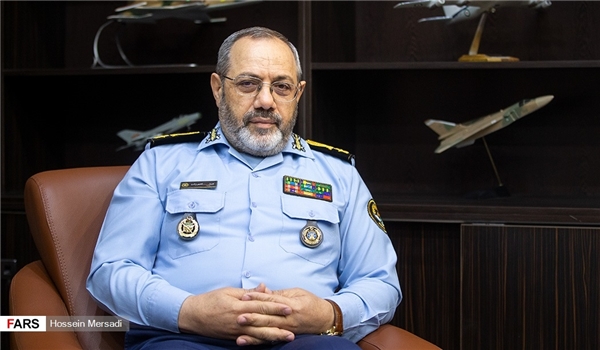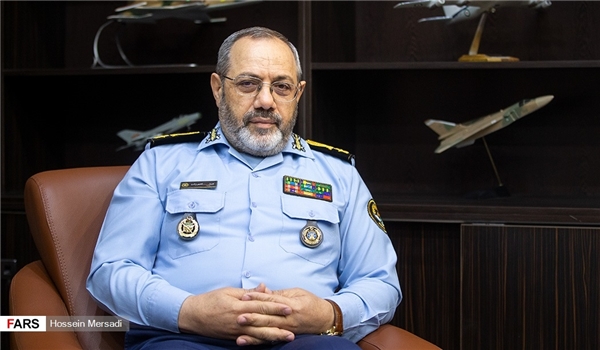 Commander of the Iranian Air Force Brigadier General Aziz Nasirzadeh announced the country's plans to boost the range of its air-to-air missiles.
"Today, we are after increasing the range of our air-to-air missiles. Therefore, one of our most important plans is increasing the range of missiles and ammunition. We are after Beyond-Visual-Range (BVR) missiles and ammunition and consider no limitations in this regard for ourselves because the Air Force should heighten the country's deterrence power along with other (Armed) Forces," General Nasirzadeh told FNA on Tuesday.
"We have a very extensive plan in the field of long-range and smart ammunition and missiles," he added, noting that the country aims to enhance the radar systems of its fighter jets to be able to hit the target sooner and with a more precision-striking power.
General Nasirzadeh also underlined the country's plans to produce more advanced drones.
Iran has taken long strides in production of different missiles and drones despite the US sanctions.
In relevant remarks last month,  Commander of the Islamic Revolution Guards Corps (IRGC) Aerospace Force Brigadier General Amir Ali Hajizadeh underlined Iran's major advances in designing and manufacturing different state-of-the-art drones.
"We are even ahead of the top world powers in the drones sector and we are way ahead of them," General Hajizadeh said.
He described Iran as the top regional power in the sector, saying that the country has been able to develop different types of home-made missiles as well.
"The young Iranian people have managed to put the country at the peak of power with their excellent ideas in the radar, missile and drone sectors," General Hajizadeh said.
His remarks came after Iranian Defense Minister Brigadier General Amir Hatami underlined the country's self-sufficiency in different military and defense fields, dismissing any concerns about the US sanctions and pressures.
"Today, I should announce that we are not concerned about the sanctions because we have produced all our defensive needs in all the marine, air and ground sectors," General Hatami told FNA on the sidelines of the 4th International Asia-Pacific Forum on Military Medicine in Tehran in October.
He underscored the Iranian Armed Forces' preparedness to confront any threat and danger that aims to distort the country's security.
General Hatami referred to Iran's recent missile strikes against the terrorists in Syria, and said they displayed the country's capabilities and strong will to confront threats.