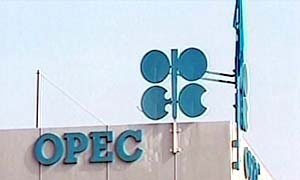 Iran's envoy to OPEC says there is no need for the organization to change output targets in the upcoming meeting in Vienna.
"OPEC is expected to insist on the members' quota compliance in the next meeting," Mohammad Ali Khatibi was quoted by SHANA as saying on Sunday.
The Organization of the Petroleum Exporting Countries meets in Vienna on March 17 to review its oil supply policy.
The oil producing organization has left its quota unchanged since December 2008, when it agreed to cut 4.2 million barrels per day (bpd) but compliance of the group's members has waned to 53 percent.
Khatibi added that the oil market would be oversupplied in the second half of 2010.
"If the current oil production continues, the oil market will face an oversupply in the second half of 2010," he said.
Khatibi said that OPEC is likely to ask members to comply with their quotas until the economic crisis is over.
According to OPEC's reports, the group expects appetite for crude oil to remain weak throughout the first half of 2010.