Iran
Iran Seizes Arms Cargos Meant to Help Terrorists, Rioters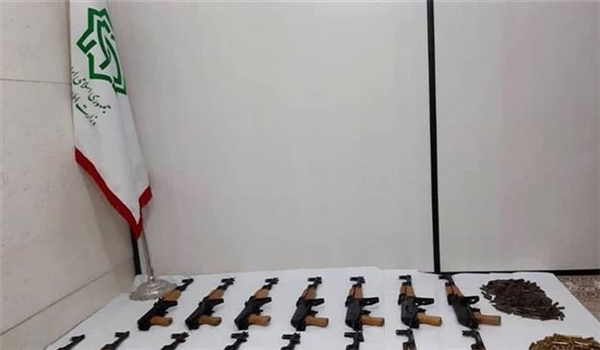 Iranian security forces announced on Friday that they have managed to discover and impound an arms shipment in the Western province of Kermanshah and bust an armed terrorist group in the Southwestern province of Khuzestan.
Speaking on Friday, Khuzestan police commander Heidar Abbaszadeh said two main members of a terrorist group were captured after conducting due intelligence and judicial procedures in the central city of province Ahvaz.
The apprehended terrorists have admitted to their crimes during police investigations, he said.
The group, he said, played a role in instigating violent riots in Ahwaz during protests against fuel price hikes in November.
The November protests descended into violence after riotous elements — some of them armed — infiltrated the protests, perpetrating acts of vandalism against public and private property, according to witnesses and official reports.
In some cases, reports indicated that certain elements had randomly shot at individuals present in the vicinity of protest locations in a bid to provoke further violence and unrest.
Iranian officials have said the attempts were backed by certain foreign states.
On Friday, Iran's Intelligence Ministry identified and seized an arms shipment in Javanroud, a city in Western province of Kermanshah.
The shipment had been brought into the country from Iran's western border in a bid to create insecurity, the report said.
Iranian security forces are known to have disrupted recruitment activities by terrorist Takfiri elements in Javanroud in the past.
Earlier this week, the Judiciary said a haul of American-made weapons had been seized in the central city of Isfahan and after being smuggled into Iran in order to be used in the November riots.
According to the public prosecutor of Isfahan, the consignment consisted of over 126 riot (pellet) guns, firearms, and AK-47 as well as 900 live rounds.
Two weeks ago, a four-strong monarchist cell intending to start a second wave of riots in Iran's central province of Isfahan were identified and apprehended by the Islamic Revolution Guard Corps (IRGC).
Head of the public relations office of the IRGC in Isfahan Colonel Ali Qomian said a four-strong monarchist cell was busted on Friday in the wake of an operation conducted by the IRGC intelligence forces.
He said they were arrested when they were holding a meeting to discuss the second wave of riots in Iran.
While searching their house, monarchist flags, tools for daubing anti-Establishment slogans and Molotov cocktail glasses were discovered.
Earlier this month, Secretary of Iran's Supreme National Security Council (SNSC) Ali Shamkhani said enemies had plotted to increase the number of fatalities during the recent riots in several cities, adding that most of the people killed in Tehran province were not even involved in any protest gatherings.
"More than 85 percent of the victims of the recent incidents in towns of Tehran Province had not taken part in any gathering and were killed with non-organizational firearms and cold weapons in a very suspicious manner," said Shamkhani in a meeting with families of some of the victims of the riots in the Western towns of the province.
He noted that there was certainly a plot hatched by the "adversaries" to cause as many fatalities as possible and pin the blame on Iran's security forces for the killings.
In mid-November, the Iranian government raised gasoline prices in order to moderate the national consumption rate.
The move prompted protests in a number of cities that went largely peaceful but turned violent when armed riotous individuals took advantage of the situation to vandalize public and state property, and attack civilians and security forces alike.
Shortly after the riots broke out, Supreme Leader of the Islamic Revolution Ayatollah Seyed Ali Khamenei tasked the Supreme National Security Council with compiling a report detailing the reasons behind the riots and immediate attending of the families of the victims.