Iran
Iran self-sufficient in producing missiles, drones, smart bombs: IRGC commander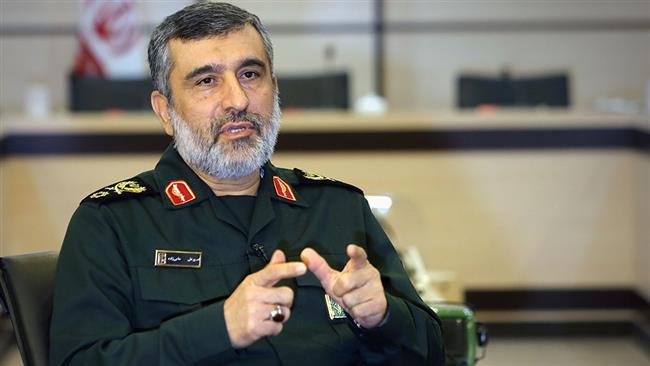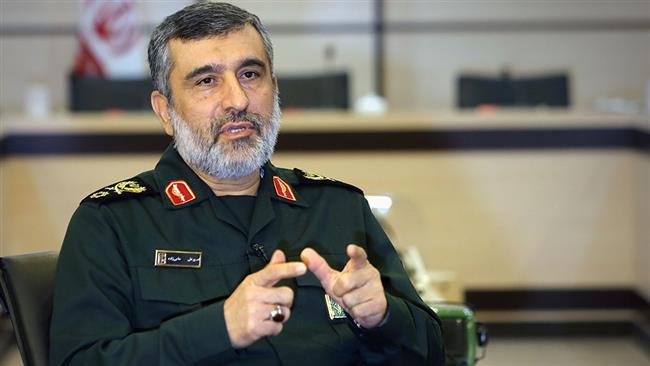 A senior commander of the Islamic Revolution Guards Corps (IRGC) Aerospace Division says Iran is self-sufficient in producing various types of surface-to-surface missiles, drones and smart bombs.
"[Iran's] self-sufficiency in manufacturing advanced surface-to-surface missiles, unmanned aerial vehicles, smart bombs, radar and air defense systems, electronic warfare [devices] and other issues correctly proves that we can overcome all problems by relying on domestic capabilities," Brigadier General Amir Ali Hajizadeh said in a meeting with a group of Iranian lawmakers on Tuesday.
Iran has recently made major breakthroughs in its defense sector and attained self-sufficiency in producing important military equipment and hardware. The Islamic Republic says its military power poses no threat to other countries and is merely based on the doctrine of deterrence.
Referring to a recent missile attack on terrorists' positions in Syria's eastern province of Dayr al-Zawr, the commander said the IRGC's Qods Force had initially given the list of 60 targets to the Aerospace Division, but eventually six missiles were fired at three main targets.
Hajizadeh added that all the missiles hit the targets and completely destroyed the Daesh Takfiri terrorists' underground bases and tunnels, noting that some pictures of the destroyed tunnels have already been released.
On June 18, the IRGC fired six medium-range surface-to-surface ballistic missiles at Daesh bases in Syria's Dayr al-Zawr, which killed more than 170 Takfiri terrorists, including a number of commanders and senior elements, and inflicted heavy damage on their equipment and systems.
The missile attack came after gunmen mounted almost simultaneous assaults on Iran's parliament and the Mausoleum of the late Founder of the Islamic Republic Imam Khomeini on June 7. The Daesh Takfiri terrorist group claimed responsibility for the assaults, which killed 17 people and injured over 50 others.
Hajizadeh also pointed to the US role in the creation of the ongoing challenges in the Middle East, saying that Iran was currently engaged in a war in multiple fronts.
The US tries to project the picture it wants of reality rather than the reality itself for the world's public opinion, the IRGC commander said, adding that such an image was sometimes intimidating and sometimes very deceitful just like a mirage.
He emphasized that Iran's hands should not be tied in the face of the enemy's sanctions and pressure, emphasizing that the IRGC's suggestion is that the country should take retaliatory measures to counteract US pressure and bans.