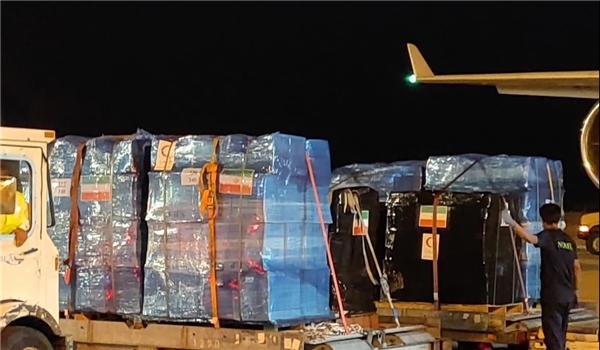 Iran has dispatched 95 tons of aid to Beirut, Head of Iran's Red Crescent Society (IRCS) Karim Hemmati said on Sunday, adding that another 60-ton cargo will also be sent to the Lebanese capital soon.
Hemmati said that 95 tons of aids containing various medical items and foodstuff have already been sent and an additional 60 tons will also be sent soon.
Iran's first cargo of humanitarian aid comprising 95 tons of food and medicine arrived in Beirut on August 6.
It was announced on Friday that Iran's Red Crescent Society has dispatched some 15 tons of food to Lebanon's Red Cross to be distributed among those affected by the devastating blast in Beirut.
Deputy Head of IRCS Mohammad Baqer Mohammadi said the IRCS has sent a special group to Beirut on Friday to assess the damages to the city.
He said that diagnosis kits, and medicine needed by COVID-19 and cancer patients are the most urgent needs of the Lebanese people affected by blast in Beirut.
Face masks, alcohol, disinfectants, first aid kits and the equipment needed for performing minor surgeries are other items mostly needed by the people injured in the explosion in Beirut port.
IRCS had already dispatched 95kg emergency medical supplies to Beirut. Iran also set up a field hospital in Beirut.
A mega explosion rocked the Lebanese capital on Tuesday. Terrifying footage showed a huge mushroom cloud of fire and smoke covering much of Beirut's port area, blowing out windows and destroying buildings in the neighborhood, as a warehouse at the Beirut docks caught fire on Tuesday afternoon. Photos on social media showed many buildings in the area damaged or destroyed, leaving residents covered in glass and blood.
Several smaller explosions were heard before the bigger one occurred and turned the city's streets into a debris-strewn wasteland.
Lebanon's Ministry of Health announced that 158 people have been killed in the blast at Beirut's port on Tuesday, while at least 6,000 others have been injured. The explosion left 300,000 homeless, as vast part of the city has been fallen into ruin. Red Cross volunteers at the scene of the explosion declared they expect the death toll to rise.
Lebanese rescue workers and army soldiers are struggling to remove huge items of debris in search for possible survivors at Beirut's port. The Lebanese Red Cross believes there are still tens of people missing.
Health Minister Hamad Hassan blamed the explosion on a fireworks accident, ordering all hospitals in Beirut to prepare for the victims of the incident.
Lebanese General Security Director Abbas Ibrahim has also dismissed rumors of Israeli involvement, noting that a large cache of highly explosive sodium nitrate was stored at the site, after being confiscated off a ship several months ago. He did not explain how the fire has started.