Palestine
Iran Sends Nearly 100 Tons of Relief Aid to Gaza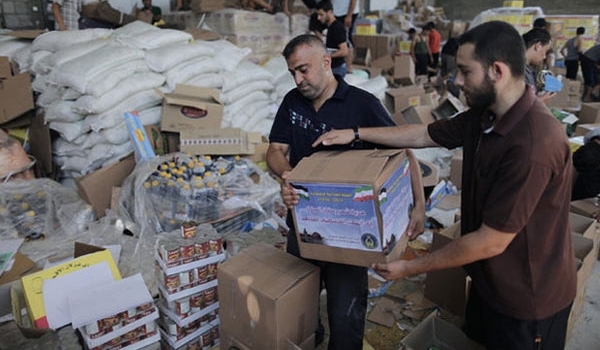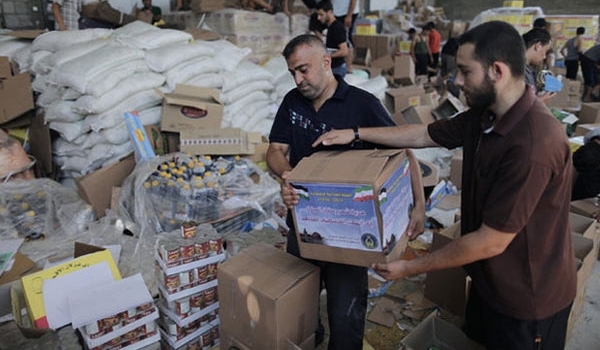 The Iranian Red Crescent Society (IRCS) has sent a total of 95 tons of relief aid, including medicine, medical equipment and foodstuff, to the Palestinian people in the Gaza Strip, a senior official announced on Tuesday.
"A sum of 95 tons of relief aid, including 35 tons of medicine and medical equipment, 20,000 tuna fish and chicken cans, 700 tents, and 7,000 blankets along with three relief workers," Deputy Head of the Iranian Red Crescent Society (IRCS) for international affairs Mohammad Shahabeddin Mohammadi Araqi said.
He noted that following Israel's crimes against the oppressed Palestinians in the Gaza Strip, the ICRS collected relief aid and its first consignment was loaded and sent to Gaza via Cairo.
Following Cairo's acceptance to forward Iranian humanitarian aid to the costal enclave, the IRCS announced that it prepared another 100-ton consignment for the purpose.
On August 23, the Egyptian government agreed with the dispatch of Iran's medical team to the Gaza Strip through the Rafah border crossing after it eventually accepted to deliver Iran's humanitarian aids to the Palestinians.
"The Egyptian government has issued visas for Iran's medical team comprising three physicians and three nurses and allowed them to visit the Gaza Strip," Mohammadi Araqi announced the same day.
He also added that Iran had made the necessary coordination with the Red Crescent societies of Egypt and Palestine to facilitate the dispatch of its aid consignments, including tent, blanket, foodstuff and pharmaceutical items to Gaza.
"According to a permit issued (by the Egyptian government), Iran's relief aid will be sent to Egypt by air and from there to Gaza on land," Mohammadi Araqi continued.
On July 24, Iranian President Hassan Rouhani ordered his foreign and health ministers to urgently forward medicine, medical equipment, first aid, and food stuff for the Palestinian people injured in the recent Israeli attacks on the Gaza Strip.
Over 2,150 Palestinians have so far been killed and some 11,100 others injured since the Israeli military first launched its offensive against the Gaza Strip on July 8.