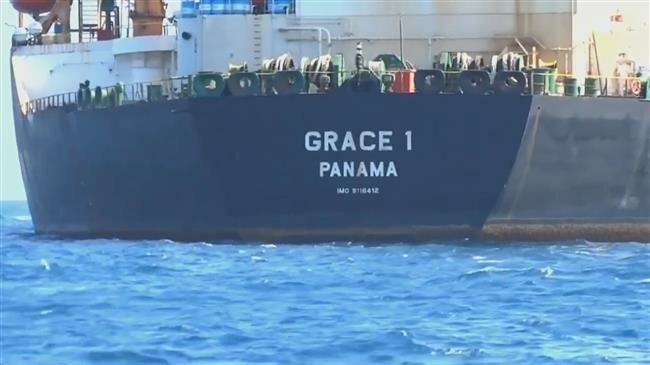 A political analyst from New York has advised Iranians to take the tanker issue to an international court.
Ian Williams, a senior analyst at Foreign Policy in Focus from New York, told Press TV in an interview on Friday that the Strait of Gibraltar was an international waterway and vessels from all countries had a right of passage to go through it.
Right of passage in international law gives the country's right for its ships to pass through the territorial seas of foreign states and straits used for international navigation.
"There is no international law forbidding ships to travel to Syria," Williams pointed out.
"In addition to that, the ship is flying the flag of Panama, and both Panama and Britain are signatories to the international convention of the law of the sea which has very definite procedures," he said.
Williams said that Panama was legally responsible for the ship.
"Panama should go straight to the international tribunal of the sea to seek interim measures," he said, adding that the Latin American country should take the issue of the tanker to the international tribunal on the law of the sea and complain this ship has been detained illegally.
Williams said Panama should ask the tribunal to order the UK to release it immediately.
"I suspect the British will be ordered to release the tanker," Williams said.
The senior analyst of foreign policy added that an interesting point about the incident was the outlaw US National Security Adviser John Bolton approving it.
Bolton on Thursday hailed Britain's "illegal" seizure of the Iranian oil tanker.
In contrary to senior Iranian officials, who have called for retaliatory measures against Britain in case London refuses to release the Iranian vessel it had illegally detained in Gibraltar, Williams insisted that court action was the right way to respond to the UK.
"If Britain does not release the Iranian oil tanker, it is the authorities' duty to make a reciprocal move and seize a British oil tanker," said Major General Mohsen Rezaei, a top IRGC general and the secretary of Iran's Expediency Council.