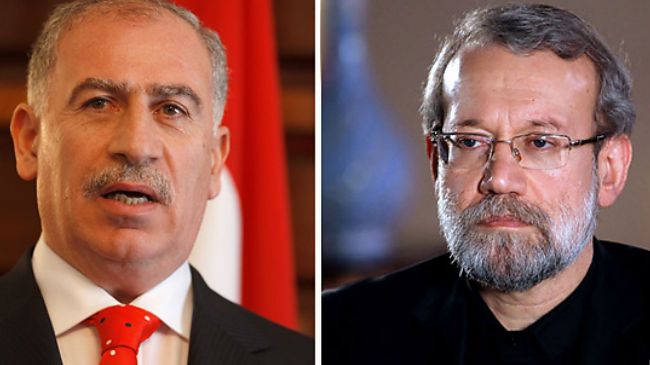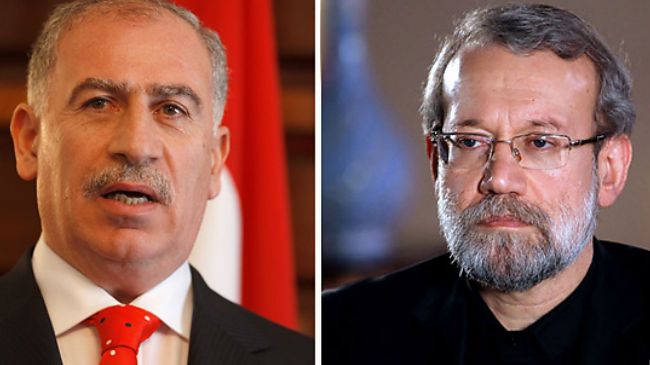 Iran's Majlis Speaker Ali Larijani has slammed the recent assassination attempt on his Iraqi counterpart Osama al-Nujaifi, saying combating terrorism requires regional cooperation.
The condemnation of Monday's terrorist move against al-Nujaifi and his brother came in a Wednesday message from Larijani, in which he also expressed relief that the terror act had failed.
"There is no doubt that terrorism poses a serious threat to the security and development of all regional nations and fighting it requires a collective, regional effort," the message read.
The top Iranian lawmaker said combating terrorist groups is a central plank of Iran's policy, expressing Tehran's readiness for cooperation in that regard.
Nujaifi's office announced on Monday that a convoy carrying the top Iraqi legislator was struck by a roadside bomb in the northern city of Mosul.
According to police and medical sources, six of Nujaifi's bodyguards were injured in the blast, but the speaker himself escaped unharmed.
Mosul and surrounding Nineveh Province are among Iraq's most volatile areas, with assaults regularly targeting security forces, government officials as well as civilians.
According to figures compiled by Iraq's ministries of health, interior and defense, some 1,013 people were killed in January alone, making it the deadliest month since April 2008.
Iraqi Prime Minister Nouri al-Maliki says the al-Qaeda terrorist group is behind the killing of thousands of people in his country.