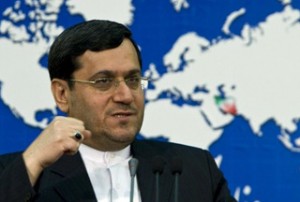 Iran has slammed West's double standards in dealing with terrorism a day after the US and France admitted their role in Iran's post vote unrest.
"We expect officials of Western countries to adopt an honest approach to terrorism and condemn activities of anti-Iran terrorists including members of the Monarchy Organization of Iran and the Mujahedin Khalq Organization (MKO)," Iranian Foreign Ministry Spokesman Hassan Qashqavi told reporters on Monday.
Muhammad-Reza Ali-Zamani, a member of an anti-revolutionary group known as Monarchy Organization of Iran confessed, in Iran's Revolutionary Court prosecuting Iran's post-vote rioters, to contacting US intelligence agents in Iraq and then attempting to overthrow the Islamic Republic.
Qashqavi criticized the UK in particular for harboring key terrorists, including members of the Monarchy Organization of Iran.
The trials of the local British Embassy staff, Hossein Rassam, and Nazak Afshar, a French Embassy employee and a female French lecturer charged with 'acting against Iran's national security', Clotilde Reiss, were held in Tehran on Saturday.
Rassam admitted to having been ordered by its superiors to take part in Iran's post-election protests.
Reiss, 24, who was working in Iran as a lecturer at the Isfahan Technical University, admitted to the court that she had written about Iran's nuclear power program as well as the post-vote developments for the French Embassy and asked for clemency.
Afshar also admitted on Saturday that she had taken part in post-election demonstrations, sent emails containing information on the riots, and let rioters into the embassy based on orders given by her employers.
The developments come as US Secretary of State Hillary Clinton said on Sunday that the US was trying 'behind the scenes' to empower protesters disputing Iran's presidential election.
French Foreign Minister Bernard Kouchner also told the Le Parisien/Aujourd'hui en France newspapers on Monday that the country's embassy in Tehran was ready to give refuge to Iranian rioters fleeing police.
"What was said Saturday was true. If protestors, who were being chased had sought refuge in the French Embassy, the instruction was to open the door," he said.
In his Monday address to reporters, Qashqavi reiterated that Tehran has no plan to cut its relations with countries that have tried to interfere with its post-election events particularly with Britain.
He, however, said that other options, including expelling diplomats, could be put on the table.
Qashqavi also hit back at an "illegal and surprising" statement by the European Union's Swedish presidency calling for an immediate release of employees of the British and French embassies.
"Why do European countries interfere in Iran's domestic affairs? Why don't they leave our nation alone? We have never interfered in their internal affairs," said the spokesman.