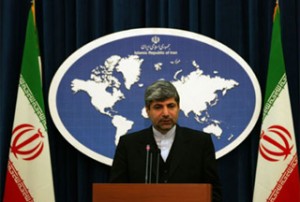 Iran deplores Canada's move to vote against a UN-backed resolution extending the deadline for a full and credible probe into Israeli war crimes during its last year assault on Gaza.
"During the tenure of [Canadian Prime Minister Stephen] Harper, Canada followed the policy of turning a blind eye to realities and has always given priority to dual and contradictory behaviors," said Iranian Foreign Ministry Spokesman Ramin Mehmanparast on Sunday.
"Canada's vote against the resolution, which supports the rights of citizens, immigrants and religious minorities, was another notable example of such behavior," he added.
On Friday, the United Nations General Assembly adopted a non-binding resolution, backed by the Palestinian Authority's delegation along with several Arab and African countries, in a 98-31 vote.
The move gives another five months for fresh investigations into war crimes committed during the three-week Israeli onslaught, which killed more than 1,400 Palestinians, mostly civilians, and left thousands of others wounded.
This is while a UN fact-finding committee led by renowned South African prosecutor Richard Goldstone accused Israel of war crimes and crimes against humanity.
Goldstone's 575-page report documented accounts of deliberate killing of Palestinian civilians by the Israeli army which targeted places known to hold civilians and also opened fire on unarmed people fleeing the scene.
The document also charged the Islamic resistance movement of Hamas with indiscriminate targeting of southern Israeli towns with rockets — mostly homemade projectiles landing in unpopulated desert areas.
Mehmanparast condemned Canada's support for Israeli crimes, saying, "Ottawa shows full support for anti-human crimes of the Zionist regime [Israel]."
"In light of such contrary-to-human-rights remarks the Canadian government has unfortunately shown that it is not eligible to comment on such issues," he said.
Taking the Goldstone report into consideration, the General Assembly overwhelmingly passed a similar resolution demanding credible, independent investigations of war crime charges by February 5.
Goldstone had advised the case be sent to the International Criminal Court at The Hague if plausible probes were not conducted within six months.