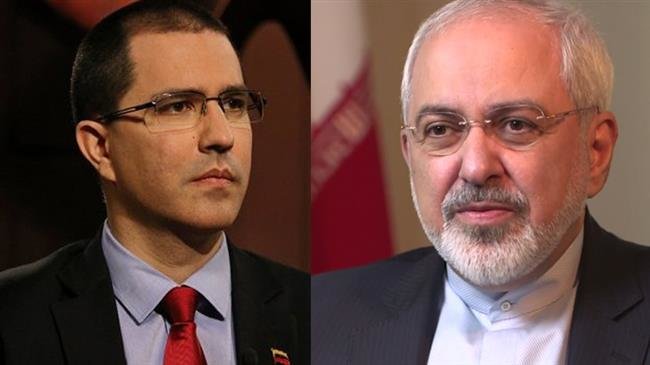 Iranian Foreign Minister Mohammad Javad Zarif has slammed foreign intervention in Venezuela's internal affairs amid escalation of the political crisis in the Latin American country.
The Islamic Republic supports Venezuelan government and nation, Zarif said in a meeting with Ruben Dario Molina, Venezuela's Deputy Minister of Foreign Affairs for Asia and the Middle East, in Tehran on Sunday.
The top Iranian diplomat added that Tehran supports Venezuelan President Nicolas Maduro's proposal for political talks between the government and the opposition with the purpose of resolving differences.
Late last month, Venezuela's President Nicolas Maduro said he was ready to sit down for talks with the country's opposition and was also open to the possibility of third countries mediating.
The Venezuelan diplomat, who is in Tehran at the head of a delegation, commended Iran's efforts to help improve the political situation in his country.
Zarif and Dario Molina emphasized that the meddlesome US measures in Venezuela and other Latin American countries as well as Washington's threats to use force against Caracas are in violation of international law and the United Nations Charter, and are doomed to fail.
Venezuela's opposition leader Juan Guaido, 35, who is also the head of Venezuela's defunct National Assembly, plunged the country into political chaos on January 23, when he proclaimed himself as the "interim president" of Venezuela, a bizarre move that drew US President Donald Trump's immediate support and prompted the White House to call on other countries to follow suit in recognizing Guaido as such.
The US-backed opposition figure has also planned to bring in foreign humanitarian aid, including those from the US through the Colombian border, to allegedly alleviate the country's economic crisis.
Maduro has said the real incentive behind Guaido's "relief" effort is to undermine his government in a Washington-orchestrated bid to oust him, stressing that Caracas would not allow the entry of the so-called aid to Venezuela, which has the world's largest proven oil reserves.
Earlier this month, Russia warned that the United States is considering a range of options against the government of Maduro, including a direct military invasion of the Latin American country.
"There are still signs coming from Washington about the possibility of using force in order to overthrow the legal authorities, including through direct military invasion," Russian Foreign Ministry spokeswoman Maria Zakharova said in Moscow, adding, "This is actually being spoken about openly in the White House."
In a phone conversation with Venezuelan Foreign Minister Jorge Arreaza in January, Zarif said the Islamic Republic supports the legal government in Venezuela and the country's people in the face of all plots, particularly those hatched by the United States.
Zarif and Arreaza also exchanged views about ways to expand negotiations between the Venezuelan government and the opposition groups and find a political solution to the conflict.