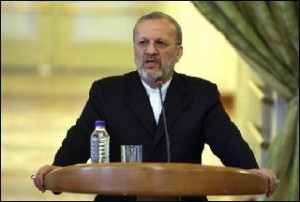 Iran's Foreign Minister Manouchehr Mottaki says the intervention of foreign forces is the main reason behind the ever-increasing problems in the Balkans.
"Unfortunately certain powers still seek to create trouble in the Balkans," Mottaki said in a Wednesday meeting with Serbia's new Ambassador to Tehran Alexander Tacik.
Mottaki added that Iran welcomes the promotion of peace and stability in the Southeastern European region, while supporting the expansion of ties amongst all the Balkans states.
Mottaki expressed hope that Tehran and Belgrade would move toward better cooperation in all fields.
Tacik, for his part, described Iran as one of the most important countries in the Middle East and in Asia, saying that "the ground is set for expansion of cooperation between the two countries."
The new Serbian ambassador described Iran as a "key regional player" with an active role in international organizations such as the Non-Aligned Movement and the Organization of the Islamic Conference.