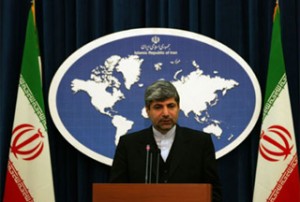 Iran says the Israeli premier's claims regarding Jerusalem al-Quds as the regime's capital and settlement expansions provide proofs of the invasive nature of the 'Zionist leaders.'
"These comments are evidence for the occupying and invasive nature of Israeli leaders against the holiest sites for Muslims and followers of other religions, revealing the Zionist officials' ill intentions in the demolition of Islamic holy sites that should serve as a serious alarm for the whole world," Foreign Ministry Spokesman Ramin Mehmanparast told reporters on Wednesday.
In his address, Mehmanparast called for "eradication" of the Israeli regime's "state terrorism", highlighting the responsibilities of the Organization of Islamic Conference (OIC) and the Arab League in extending support for the Palestinians and their religious beliefs.
His remarks came in response to Tel Aviv's Prime Minister Benjamin Netanyahu's Monday speech at the annual conference of Israel's lobby group in the US (AIPAC), where he rejected calls for halting settlement activities in al-Quds. He claimed the city is "part of Israel in any peace settlement" and the regime's capital.
His defiant remarks fly in the face of the international community's call for a permanent halt to the settlement construction in the occupied Palestinian lands, also regarded as a major blow to the so-called peace process with the Palestinians who are adamant on al-Quds as their capital.
"The Organization of Islamic Conference and the Arab League are expected to seriously take this huge threat posed by the Israeli regime into consideration and take up real strategies to nullify these approaches," the Iranian foreign ministry official added.
The Tel Aviv regime occupied and annexed al-Quds in 1967 in a six-day war, in a move never recognized by the international community. East al-Quds has long been demanded by Palestinians as the capital of their future state.
Meanwhile, the leader of Israeli settlers' council has said the regime plans to triple Jewish settlements in the occupied West Bank. "It's totally viable to envisage a million Jews living in Judea and Samaria," said Naftali Bennett on Tuesday.
Last week, the Israeli interior ministry gave a green light to the construction of 1,600 new settlement units in Ramat Shlomo neighborhood in the mainly Arab East al-Quds during a visit by US Vice President Joe Biden, supposedly to revive the so-called peace process.