Iran
North America
Iran slams US anti-Iran bias after FBI arrest of independent political scientist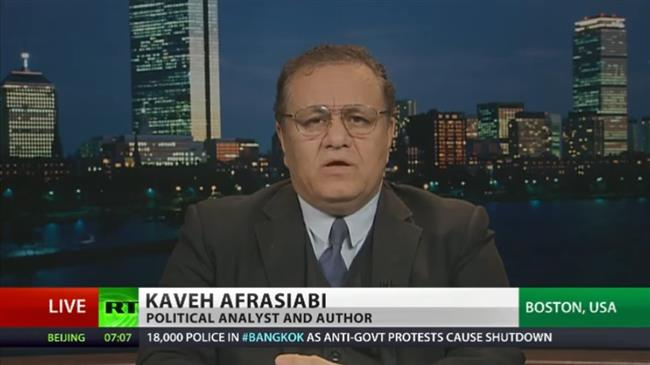 Iran's permanent mission to the United Nations has strongly condemned the arrest of US-based Iranian political scientist and author Kaveh Lotfolah Afrasiabi by FBI agents on baseless charges, saying the outgoing administration of US President Donald Trump is notorious for its anti-Iran bias.
"It is unfortunate to hear of the arrest of Dr. Afrasiabi on spurious charges, in the waning hours of the Trump administration, which is well-known for its anti-Iranian bigotry and bias," Alireza Miryousefi, the mission's spokesman, said.
The Justice Department said on Tuesday that Afrasiabi, who has been a lawful resident of the United States for more than 35 years and who received his education in the US, was arrested at his home in Watertown, Massachusetts the previous day on trumped-up charges of acting and conspiring to act as an unregistered agent of Tehran.
US Assistant Attorney General John Demers alleged Afrasiabi "was actually a secret employee of the government of Iran and the Permanent Mission of the Islamic Republic of Iran to the United Nations" in New York City since at least 2007.
However, Miryousefi said "Dr. Afrasiabi has not been working as an agent of the Mission and only as a university professor, and an expert on international relations."
Miryousefi added that 63-year-old Afrasiabi "has provided consultations to the Mission on international issues and his working relationship with us has been open and fully transparent since the beginning."
US authorities have further claimed that he worked to influence public opinion in the United States on behalf of Iran in news articles and during appearances with US news media.
They said he also lobbied a US congressman and the State Department to adopt policies favorable to Tehran, and counseled Iranian diplomats concerning US foreign policy.
Afrasiabi made an initial appearance in federal court in Boston on Tuesday. He faces a maximum sentence of 10 years in prison if convicted of charges.