Iran
Middle East
Iran speeds up 'relief train' to help flash flood victims
Following more than two weeks of heavy rain and nearly nationwide flooding, Iran has continued efforts to transport relief to flood-stricken areas, including a new initiative to set up a "relief train".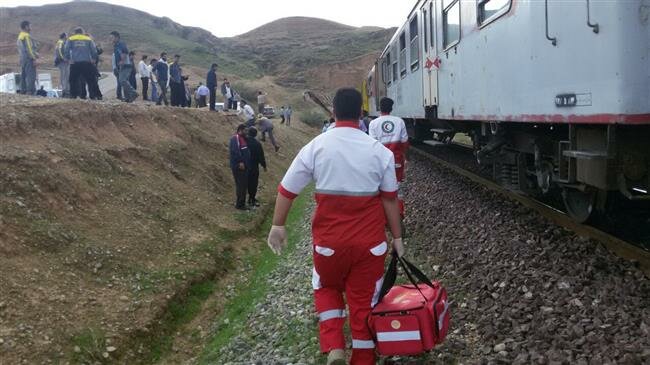 Railways of the Islamic Republic of Iran (RAI) head Saeid Rasouli announced on Thursday that coordination had been made to distribute the needed relief using the railway system.
Rasouli added that with the cooperation of other governmental bodies, the railway system had already coordinated the transportation of more than 14,000 bottles of water, 10,000 food cans, 500 blankets and also other needed material, including aid-loaded transport vehicles.
The railway system will transport the aid to the flood-stricken areas of Lorestan and Khuzestan.
The announcement comes as floods have affected at least 23 of the country's 31 provinces since heavy downpours began on March 19.
Major floods have been reported in the provinces of Golestan, Mazandaran, Gilan, Kordestan, Lorestan, Fars, Northern Khorasan, Kermanshah, Khuzestan, Kohgiluyeh and Boyer-Ahmad as well as Sistan and Baluchestan.
Estimates by government agencies suggest that the floods have taken the lives of at least 67 people and destroyed over 25,000 homes around the country.
Lorestan is said to have suffered the second highest amount of casualties after the Fars Province, based on official reports.
Leader urges full relief operations in flood-hit areasAyatollah Khamenei urges Iranian officials and institutions to take all necessary measures to solve the problems of people in Iran's flood-stricken areas.
More anticipated rainfall
Iran's Meteorological Organization announced on Thursday that the country would see a new wave of rainfall entering the country as of Friday afternoon.
The rain is expected to be much less than the recent record-breaking rainfalls, but given that many waterways are already full to their maximum capacity, the organization announced that the precipitation can exacerbate the situation.
Ongoing nationwide relief efforts
Speaking to reporters earlier on Friday, Deputy Road and Construction Minister Abul Hashem Hassannia said that the recent floods were a rare and unprecedented event and that a processional board will be set up to assess the flood relief operations.
He added that opening inaccessible transportation paths was his main priority.
"Crisis management requires one to create a balance between what one needs and his capacity. When our capacity is outstripped, we have to prioritize," said Hassannia.
Based on media reports, Iranian Interior Minister Abdolreza Rahmani-Fazli and head of the Khatam-al Anbiya Construction Headquarters Saied Mohammad have both entered Khuzestan Province to supervise ongoing relief efforts in the region.
Having arrived in Lorestan, Mohammad said that his organization has so far assisted in the reparation of existing roads and the creation of temporary transportation routes made inaccessible by the flooding.
He added that the Khatam-al Anbiya Construction Headquarters has also assisted in clearing, diverging and deepening waterways in order to reduce the flooding.
Other relief efforts have continued nonstop across the country, with professional and voluntary relief teams being sent to many flood-stricken areas. Helicopters have also been used to get aid to locations made inaccessible by the floods.
Much effort is also being put in enforcing existing floodwalls and creating new ones to withstand major flooding in populous areas.
*To join the national rescue effort for flood victims, you can check the Iranian Red Crescent Society's donation page here.