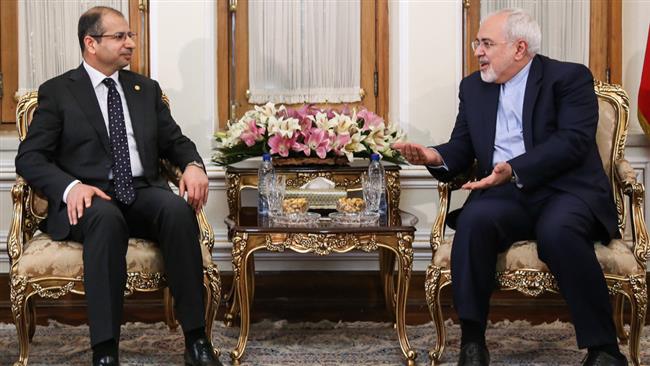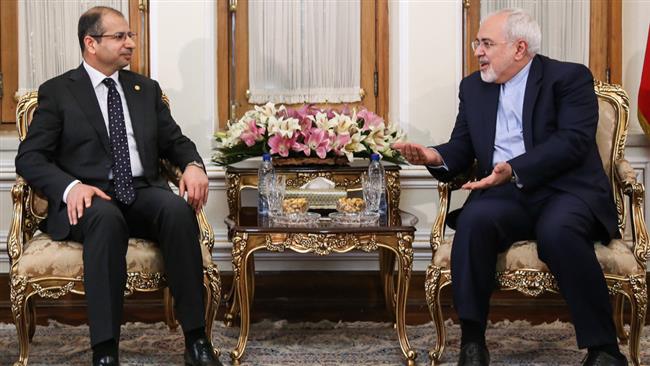 Iranian Foreign Minister Mohammad Javad Zarif hails the key role of Iraqi senior officials in establishing political stability in the country, saying Tehran will always stand by Baghdad.
"Iraq is at the forefront of campaign against terrorism and extremism, and Iran will stand by the Iraqi government and nation under any circumstances," Zarif said in a meeting with visiting Iraqi Parliament Speaker Salim al-Jabouri in Tehran on Saturday.
He said the Iraqi government and nation have been successful in the battle against extremism and terrorism so far and expressed confidence that they would successfully see out the final stages of the fight against terrorists in the northern city of Mosul through unity and solidarity among all tribes, ethnicities and faiths in the country.
Last week, Iraqi Prime Minister Haider al-Abadi announced that the Iraqi army was engaged in the final stages of planning the latest operations aimed at ridding the Nineveh provincial capital city of Mosul from the Daesh terrorists, who overran the country's second largest city in the summer of 2014.
Iran has been supporting Iraq in its fight against Daesh Takfiri terrorists. On August 10, Abadi hailed the presence of Iranian military advisors in the country's battle against Daesh terrorists and said the Iranian advisors are present in Iraq at Baghdad's request.
The northern and western parts of Iraq have been plagued by gruesome violence ever since Daesh terrorists mounted an offensive in June 2014.
The Iraqi army and fighters from the Popular Mobilization Units have been engaged in joint operations to retake militant-held regions.
The top Iranian diplomat also warned against foreigners' moves to create sectarian strife in the region, particularly in Iraq, and stressed the importance of remaining vigilant to foil such plots.
Zarif said all regional countries must strengthen their cooperation, adding, "Iran does not seek conflict and unsound rivalry in the region and regards the creation of crisis and tension by some countries as detrimental to the interests of all regional nations."
The Iranian foreign minister emphasized that stability, peace and territorial integrity of regional countries must always stand as priorities for all nations.
Necessity of defeating terrorists in Iraq
Jabouri, for his part, praised Iran's support for the Iraqi nation in its fight against terrorist groups and said terrorism is the most important threat to all countries in the Middle East.
The Iraqi parliament speaker added that peace must be restored to Iraq and the entire region through unity, coherence and defeat of terrorists.
Jabouri arrived in Tehran on Saturday to hold talks with senior Iranian officials on the latest developments in Iraq and other countries in the Middle East. Earlier on Saturday, he sat down with Iranian Parliament Speaker Ali Larijani and is scheduled to meet President Hassan Rouhani.