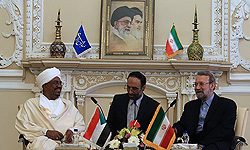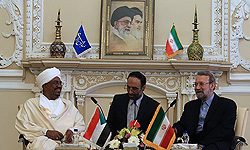 Senior Iranian and Sudanese officials in a meeting in Tehran on Saturday underlined the necessity of finding a peaceful solution to the crisis in Syria and preventing arms shipments to foreign terrorists in the Arab country.
The issue was raised in a meeting between Iranian Parliament Speaker Ali Larijani and Sudanese President Omar Hassan al-Bashir after the 16th heads-of-state summit of the Non-Aligned Movement (NAM) in Tehran from August 26 to 31.
"Weakening Syria will benefit the Zionist regime, while the Syrian people and the Muslim world will sustain the most damage," Larijani and Bashir stressed.
The two officials further voiced their preparedness to cooperate to find a regional solution to the Syrian crisis.
In similar remarks about unrests in Syria, Larijani said during a meeting with Armenian Foreign Minister Eduard Nalbandian here in Tehran on Saturday that certain foreign states are responsible for aggravated conditions in Syria.
"Adoption of radical policies by certain regional countries has intensified and spread the crisis in Syria," he said.
"But if the present trend continues, the flames of crisis will set them themselves on fire," Larijani warned.
Syria has been experiencing unrest since March 2011 with organized attacks by well-armed gangs against Syrian police forces and border guards being reported across the country.
The government blames outlaws, saboteurs, and armed terrorist groups for the deaths, stressing that the unrest is being orchestrated from abroad.
In October 2011, calm was eventually restored in the Arab state after President Assad started a reform initiative in the country, but Israel, the US and its Arab allies are seeking hard to bring the country into chaos through any possible means. Tel Aviv, Washington and some Arab capitals have been staging various plots in the hope of increasing unrests in Syria.