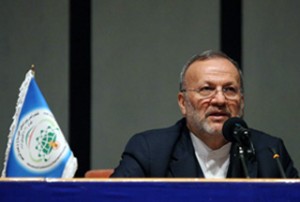 IRI's Foreign Minister Manouchehr Mottaki said on Sunday Tehran supports all countries and Persian Gulf Arab states in particular to become nuclearized.
He reiterated that the Islamic Republic of Iran backs the approval of the Persian Gulf Cooperation Council's meeting in Riyadh in which six member states stressed the use of peaceful nuclear energy.
The Foreign Minister further said 'nuclear energy belongs to all' was the slogan of the international Conference on Disarmament and Non-Proliferation which was recently held in Tehran and IRI not only supports Arab states to enjoy nuclear energy but also demands it for all non-Arab countries.