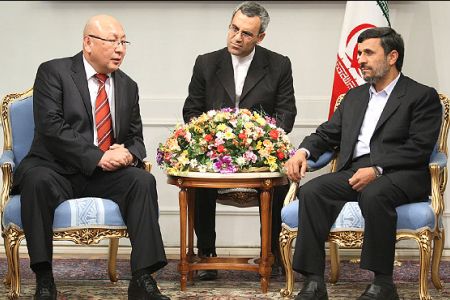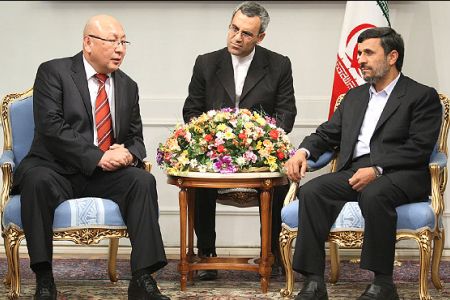 Iranian President Mahmoud Ahmadinejad has expressed the Islamic Republic's support for strengthening stability and tranquility in Kyrgyzstan.
"Iran and Kyrgyzstan should make use of appropriate opportunities and prospects for the expansion of mutual relations," IRNA quoted President Ahmadinejad as speaking in a meeting with the special envoy of Kyrgyz president, Emil Kaptagaev, in the Iranian capital of Tehran on Monday.
He expressed hope a new chapter would open in relations between Tehran and Bishkek and urged the two sides to bolster regional and international cooperation in line with mutual ties.
Kaptagaev, for his part, expressed his country's willingness to promote relations with the Islamic Republic in all fields within the framework of constructive interactions.
The head of Kyrgyzstan's presidential administration, who is the first Kyrgyz official visiting Iran after the recent developments in the country, praised Tehran's support for promoting stability in Bishkek.
He submitted a written message by Kyrgyz President Roza Otunbayeva to the Iranian chief executive and said his country has a resolve to boost cooperation with Iran not only in economic and cultural fields but in regional scenes.
Kyrgyzstan underwent a revolution in April 2010, followed by an attempted counter-coup in May. More than 400 people lost their lives in a brutal ethnic conflict in the south in June.
Earlier in November, Iranian Foreign Minister Manouchehr Mottaki held talks with Otunbayeva and his counterpart Ruslan Kazakbaev in Bishkek which was also attended by the Economic Cooperation Organization (ECO) Chief Mohammad Yahya Maroofi of Afghanistan.
Mottaki expressed satisfaction that the unrest in the Central Asian nation led to high-turnout general elections and expressed hope that the country's leaders would soon form an inclusive, popular government.
ECO is an intergovernmental regional organization established in 1985 by Iran, Pakistan and Turkey for the purpose of promoting economic, technical and cultural cooperation among member states.
The organization was expanded in 1992 to include seven new members, namely Afghanistan, Azerbaijan, Kazakhstan, Kyrgyzstan, Tajikistan, Turkmenistan and Uzbekistan.