Iran
Iran Supports Ratification of Arms Ban Treaty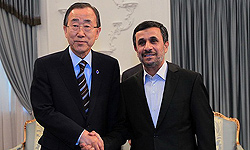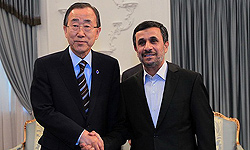 Iranian President Mahmoud Ahmadinejad in a phone conversation with UN Chief Ban Ki-moon welcomed and supported the ratification of the international arms ban treaty in the upcoming UN Disarmament Conference in New York.
"Iran, as a country that has been raided by the aliens and suffered seriously from acts of terrorism, categorically supports ratification of such an international treaty," Ahmadinejad said on Wednesday, referring to Ban Ki-moon's official request for Iran's agreement with the ratification of an arms ban treaty during the upcoming New York UN Disarmament Conference.
"Of course the Islamic Republic of Iran has some comments on the prepared document and believes if these comments would be properly heeded the text of this document would get more complete and the sphere of its effectiveness would get greater," he added.
The Iranian President reiterated that the issues of exporting, buying and selling arms have today become one of the main fields for expansion of warmonger tendencies and international terrorism in the world, noting that controlling the transfer of arms around the globe can contribute greatly to boosting the international security.
Ahmadinejad pointed out that Iran is interested in the establishment of international controls on arms trade in the world, and stressed, "Controlling the transferring of arms around the globe can to a great extent contribute to the establishment of international security."
He emphasized that Iran wishes full success for the UN Arms Ban Trade Treaty Conference and would comprehensively cooperate with its sponsor, the UN, arguing, "we believe the sponsor of the Arms Ban Conference can also collect the basic viewpoints of the Islamic Republic of Iran and the other countries which have such viewpoints and include those of them which sound logical in the final document."
"I am sure with the supervision of the UN secretary General the document of this conference would turn into an effective international document at the service of the mankind," Ahmadinejad underlined.
Iran, an NPT-signatory, has called for the removal of all weapons of mass destruction from across the globe.
Also in pursuit of global nuclear disarmament, Tehran has so far held two conferences on nuclear disarmament with officials from different world countries in attendance.
Foreign ministers, representatives and nuclear experts from 60 world countries participated in the event to discuss challenges on nuclear disarmament, countries' commitment to nuclear dismantlement and disarmament and aftermaths of inaction in the destruction of the Weapons of Mass Destruction (WMDs)