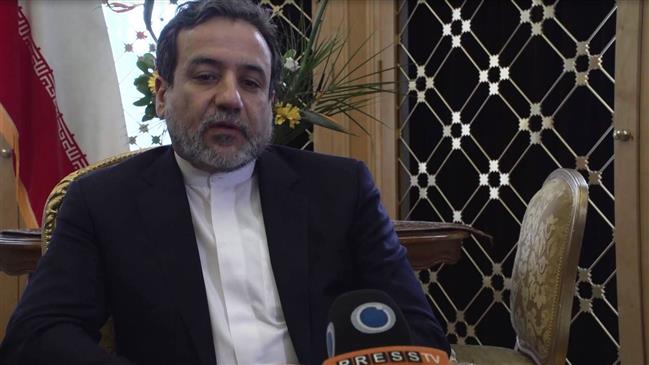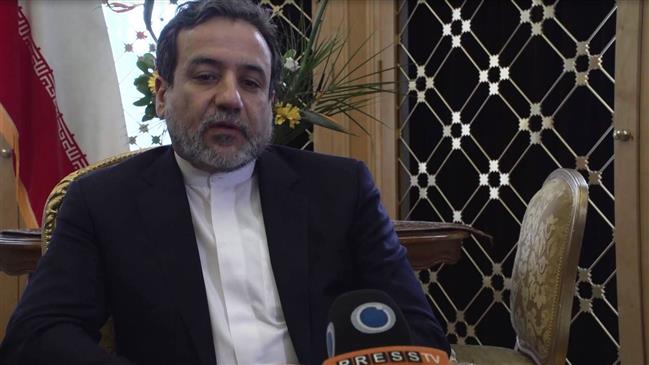 Iran is working closely with Syria in order to bring calm back to parts of the Arab country that have witnessed renewed violence as a result of increased terrorist activities over the past days, Iranian Deputy Foreign Minister Abbas Araqchi says.
After losing most of the Syrian territories in their control, militants are now largely concentrated in Eastern Ghouta, an area they have been using to launch mortar attacks on the Syrian capital Damascus.
Syrian government forces have been pounding terrorist positions in the area to retake it and free a large number of civilians trapped there and struggling with malnutrition and lack of basic medical supplies.
Araqchi, who is on a trip to the UK, told Press TV's London bureau on Thursday that Tehran and Damascus were exploring possible ways to end the deadly clashes.
"We are trying to see how we can de-escalate this new tension and how we can assist people on the ground who are suffering from this conflict," said the Iranian diplomat.
The Russian military announces that militants in Syria's Eastern Ghouta are preventing civilians from exiting the conflict zone.
Earlier this month, the United Nations was able to send an aid convoy to Eastern Ghouta, its first since the beginning of this year.
The UN Syria peace mediator Staffan de Mistura has asked Iran, Russia and Turkey, which have been organizing peace talks for Syria in Kazakhstan's capital Astana for over a year, to work out a solution to the conflict.
Araqchi said Thursday that the Astana process was ongoing and "successful to a good extent."
Iran 'fully prepared' for Israeli aggression
Elsewhere in the exclusive interview, Araqchi discussed Israeli Prime Minister Benjamin Netanyahu's recent remarks against Iran following Syria's downing of an intruding Israeli fighter jet.
Speaking at the Munich Security Conference last week, Netanyahu claimed that Israel had shut down an Iranian drone that had flown into the occupied Palestinian territories.
Prime Minister Benjamin Netanyahu says his regime could "act" directly against Iran, showing off what he calls a part of an Iranian drone shot down inside Israel.
Holding a rectangular chunk of dark green metal, which he called a part of the drone, Netanyahu said, "We will act if necessary not just against Iran's proxies but against Iran itself."
Dismissing Netanyahu's claims, Araqchi shrugged off the threat and said both Israel and the US knew how Iran would react to any act of aggression on their part.
"We cannot accept any threat and we warn any party in the region that the region cannot tolerate another… war," the Iranian official stated.
"We are fully prepared for every scenario and we don't allow anybody to threaten Iran," he added.