Iran
Economy
Middle East
Syria
Iran, Syria Working on Road Map to Closer Trade Ties: FM
Iranian Foreign Minister Hossein Amirabdollahian unveiled plans for promotion of economic and trade relations with Syria in defiance of the hostile sanctions.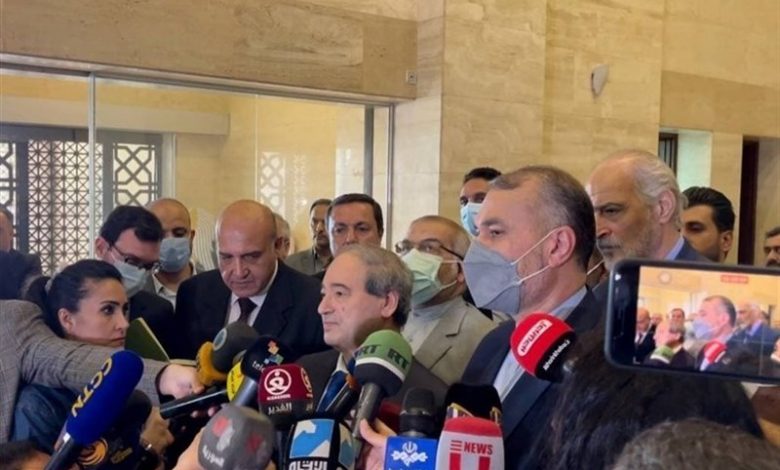 Speaking at a joint press conference with his Syrian counterpart in Damascus on Sunday, the Iranian foreign minister said they have held fruitful negotiations about the expansion of relations between the two allies.
Iran and Syria are developing a road map to the active promotion of economic and trade cooperation in order to counter the cruel sanctions imposed by the enemies, the top Iranian diplomat added.
He also noted that closer interaction between the private sectors and business people of Iran and Syria is among the topics being discussed in his visit to Damascus.
"We reviewed the latest developments in the region. We believe that any political and security arrangements in the region will come true with the presence and participation of all regional countries, including the Syrian Arab Republic," Amirabdollahian stated, pointing to the significant role that Iraq and Syria would play in the creation of new regional arrangements in the political, economic and security arenas.
The top Iranian diplomat also reiterated that the presence of the foreign forces would not provide any help in the creation of sustainable security and stability in such delicate region.
On the situation in Afghanistan, the Iranian foreign minister said Tehran is holding close consultations about the issue and believes that all parties must focus on the formation of an inclusive government as a political solution.
"The Zionists are a main cause of insecurity in the region. The Zionists have held the Muslims, Christians, and even the Jews captive in the historical territory of Palestine," he deplored.
Amirabdollahian stressed that consultations and cooperation among the regional and Muslim nations will play a leading role in the creation of sustainable security across the region.
The Iranian diplomat has traveled to Syria after a visit to Iraq, where he attended the Baghdad Conference for Cooperation and Partnership, a summit with the objective of calming regional tensions.
Before leaving Tehran for Baghdad on Saturday, Amirabdollahian complained that Syria had not been invited to the summit, saying, "However, we are in contact and hold consultations with Syria's leadership about the region's security and sustainable development."