Iran
Iran, Tajik presidents start official talks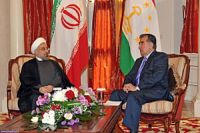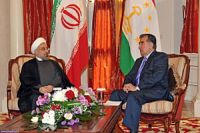 Official talks began in Dushanbe on Wednesday between President Hassan Rouhani of Iran and his Tajik counterpart Imomali Rahmon at the Nations Palace (Kohi Millat).
According to IRNA, the two presidents are to attend a joint press conference at the end of their meeting.
President Rouhani arrived in Tajikistan earlier on Wednesday to attend the 14th summit meeting of the Shanghai Cooperation Organization (SCO).
Prior to the meeting with his Tajik counterpart, the Iranian President was officially welcomed by President Rahmon at the Nations Palace where the former greeted the guard of honor in Persian.
President Rouhani is in Tajikistan on the second leg of his five-day regional tour which had earlier taken him to Kazakhstan where he visited for the first time since he took office in August 2013.
While in Astana, President Rouhani discussed issues of mutual interests with his Kazak counterpart Nursultan Nazarbayev.
A number of agreements were signed between Iranian and Kazak delegations for bilateral cooperation in various fields including transportation and trade.
President Rouhani is accompanied by a high-ranking political and economic delegation including a number of his cabinet members.
The Iranian and Tajik delegations are expected to sign a number of agreements on bilateral cooperation.
On the sidelines of the SCO summit, President Rouhani is to hold separate meetings with his participating counterparts.
The Shanghai Cooperation Organization is a Eurasian inter-governmental organization which was founded in 2001 in Shanghai by the leaders of China, Kazakhstan, Kyrgyzstan, Russia, Tajikistan, and Uzbekistan.
The Organization currently has six full members. Iran, Mongolia, Pakistan, and India are observer states and SCO's dialogue partners include Belarus, Sri Lanka, and Turkey.