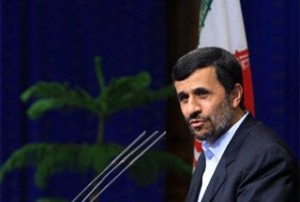 Iranian President Mahmoud Ahmadinejad says that he has sent a letter to US President Barack Obama, the contents of which will be made public in the near future.
Ahmadinejad made the announcement in an interview televised live on Channel One of Islamic Republic of Iran Broadcasting on Tuesday night.
He said that Iran is the "only chance" for Obama to realize his change motto.
"What formula can he propose to make any development in Palestine that could be considered a victory for him and could strengthen his position in the US?" Ahmadinejad asked.
"He can't do anything in Iraq or Afghanistan either because the situation is so complicated there that he can't create a tangible change there that could be considered a victory," IRNA quoted the Iranian president as saying.
Ahmadinejad also noted that Obama will not be able to improve the US economy through a miracle.
"Obama only has one way to tell the world that he has created change, and that is Iran," he stated.
Ahmadinejad urged Obama to seize the opportunity and to desist from threatening Iran, saying, "The era that they assumed that they could damage Iran is over."
"Thank God, no one can damage the Iranian nation any longer," he added.
Ahmadinejad went on to say that Iran does not want confrontation and is seeking cooperation and negotiation with others.