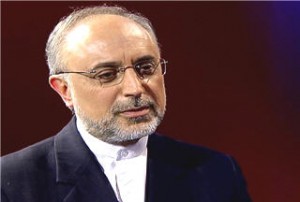 Iran's atomic energy chief says the nuclear fuel swap deal with Turkey and Brazil leaves no excuse for world powers to impose pressure on Tehran.
Senior officials from Iran, Turkey, and Brazil signed a landmark nuclear agreement in Tehran on Monday that may finally bring closure to the dispute between Iran and the West.
The deal will see Iran ship around 12 hundred kilograms of its low-grade fuel to Turkey as part of an earlier plan to exchange it with higher enrichment uranium for use at the Tehran research reactor, which produces medicine.
Commenting on the deal, the Head of the Atomic Energy Organization of Iran Ali-Akbar Salehi said he hoped this time, the US and its allies would act "with wisdom" instead of trying to block the swap from taking place.
"I think today is a day to be remembered forever… there is no excuse left for the other side to impose further pressure and to continue with hindering the whole process of the fuel exchange," Salehi told Press TV.
"We think we are on our way to the resolution of this fabricated file… we have eliminated all the excuses that were raised and I hope that this time they will be reacting with more wisdom … this file will hopefully be closed forever," he added.
World powers came close to ending their nuclear dispute with Tehran in October 2009, when representatives from the International Atomic Energy Agency, Iran, Russia, the United States and France gathered in Vienna to discuss a nuclear swap deal.
The US-proposed UN-backed offer required Iran to send most of its low-enriched uranium (LEU) abroad for further processing and conversion into fuel rods.
Iran agreed to the IAEA-backed proposal, but said it needed guarantees that the other side would deliver the fuel. Tehran said the Western block had an ill record of going back on its deals with the Islamic Republic.
However, Salehi said the Monday deal signed between Iranian President Mahmoud Ahmadinejad, his Brazilian counterpart Luiz Inacio Lula da Silva and Turkish Prime Minister Recep Tayyip Erdogan gives Iran objective guarantees to go through with the swap.
"We have reached an agreement with Turkey and Brazil. Among the principal agreements… is the recognition of Iran's enrichment, to conduct enrichment".
"It is the right of Iran anyway, but now it has been explicitly expressed by Brazil and Turkey which are two major countries and they are in the Security Council," he said.
Under the nuclear swap deal Iran has signed with Turkey and Brazil, Ankara is to hold Iran's LEU and return it if Tehran does not receive the higher enriched uranium from either France or Russia in a specific time-period.
Other than nuclear talks, the high-ranking Turkish and Brazilian officials were in Tehran for the 14th summit of the Group of 15 developing countries, which opened right after their meeting with the Iranian president.