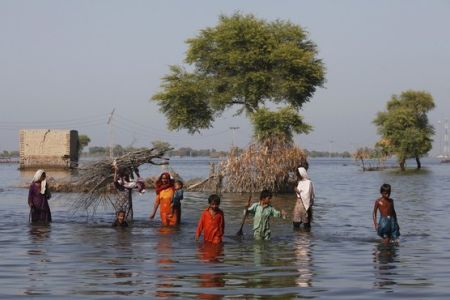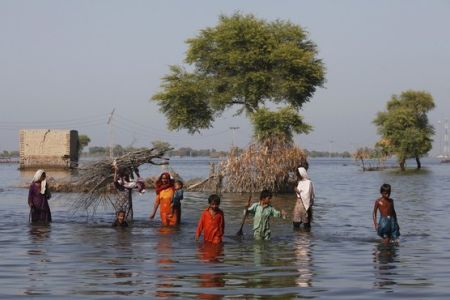 Iranian Interior Minister Mostafa Mohammad-Najjar says Iran will reconstruct or build houses for flood stricken Pakistanis in line with providing aid for the neighboring country.
"After the 100-billion-collar budget for helping flood stricken Pakistanis is approved, our measures in the new phase, which include long-term reconstruction or construction of houses, will continue," Mohammad-Najjar was quoted by Mehr News Agency as saying on Sunday.
Mohammad-Najjar added that the total amount of the Islamic Republic's relief aid to flood-stricken Pakistan will reach 5,300 tons by the weekend, IRIB reported.
Last week, Iran's largest humanitarian aid convoy worth USD10 million and containing food, tents, blankets, medicine, home appliances, and water arrived in Pakistan.
Iran's Red Crescent Society (IRCS) has set up 24 relief camps and seven clinics in Pakistan, and 150 Iranian physicians, nurses, and relief workers are assisting Pakistanis in these camps.
At least 1,760 people died and 21 million were affected by the recent flooding, which submerged nearly one-fifth of Pakistan.
The World Health Organization (WHO) has warned of the threat of a disease epidemic in Pakistan's flood-stricken areas.
Relief agencies warn that aid is too slow to arrive for millions without clean water, food, and homes in the flood-hit regions.
Sindh is the worst-affected province. Nineteen of its 23 districts were ravaged when floodwaters poured out of Indus River.
According to the UN Office for the Coordination of Humanitarian Affairs, more than 650,000 families whose homes were wiped out by the floods still have no basic shelter.