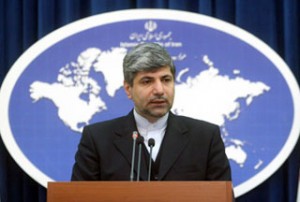 The Iranian Foreign Ministry says Tehran will lodge a formal complaint with the United Nations against US President Barack Obama for threatening the country with a nuclear strike.
Foreign Ministry Spokesman Ramin Mehmanparast said Sunday that the move was backed by 255 of Iran's 290 members of Parliament.
Last week, Obama made clear that his administration reserved the right to launch a nuclear attack on Iran under the pretext that the country is developing an atomic bomb.
Iran, a signatory to the Nuclear Non-Proliferation Treaty (NPT), says its program is only for the civilian applications of the technology. The UN nuclear watchdog has, in many reports, declared that there is no evidence of military objectives in the country's nuclear work.
Along with the US, Israel, which is the possessor of the Middle East's sole nuclear arsenal, has repeatedly threatened to attack Iran.
Iranian lawmakers, who have instructed the Foreign Ministry to lodge the letter of protest, warned the Obama administration against destabilizing the already "tense Persian Gulf and Middle East."