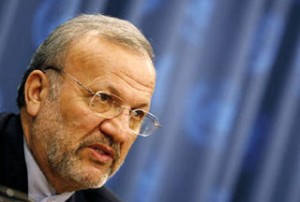 The Iranian foreign minister says Iran is fully cooperating with the UN nuclear watchdog, stressing that there have been no diversions in the country's nuclear program.
Manouchehr Mottaki made the comments as the new head of the International Atomic Energy Agency (IAEA), Yukiya Amano, accused Iran in a meeting of the Board of Governors of not cooperating sufficiently with the UN body over its nuclear program.
In a Monday news conference in Geneva, Mottaki said, "The new chief and the new managers of the agency should look at the record of Iran's cooperation."
"We have fully cooperated with the agency. This cooperation will continue," he said.
"We have always welcomed and encouraged negotiations and talks."
Earlier Monday, Amano said in his opening address to the meeting that the IAEA continues to verify the non-diversion of declared nuclear material in Iran but is unable to confirm that all nuclear material in the country is being used for peaceful activities as Iran has not provided the agency with the "necessary cooperation."
Mottaki insisted that Tehran was among countries "most committed" to the IAEA, when asked about his reaction to the watchdog's concerns. "We were and we are," he stressed.
Amano said a UN proposal to supply Iran with fuel for the Tehran nuclear research reactor was still on the table.
The proposal would require Iran to send most of its low-enriched uranium (LEU) to Russia and subsequently France for further enrichment and conversion into metal fuel rods.
While the Tehran research reactor, which produces medical radioisotopes for cancer treatment, is already running out of fuel, based on the draft Iran would receive a shipment of the nuclear fuel at a later time.
Iran was still having negotiations with different parties on the issue of an exchange of nuclear fuel, Mottaki said.
"The issue of swap, it is possible to be carried out. The agreement could be made now, but the realization, the fulfillment of the swap needs time," he said.
Tehran has cited the West's previous failures to meet its commitments and provide Iran with nuclear fuel as a cause for concern over the delivery of the fuel.
After the powers ignored Tehran's concerns over the absence of necessary guarantees, Iran decided to domestically enrich uranium to a level of 20 percent.
Iran, a signatory to the Nuclear Non-Proliferation Treaty (NPT), rejects the allegations of having military objectives in its nuclear program as politically motivated and says its nuclear work is completely peaceful and within the framework of the NPT.