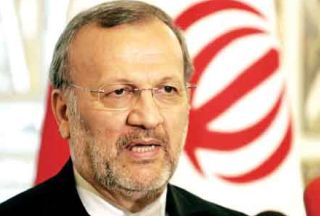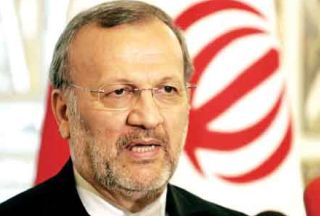 Iran's foreign minister insists that Iran's production of 20-percent enriched uranium will in no way be a continuous process.
Manouchehr Mottaki reiterated Tuesday that the 20-precent enrichment will only take place based on fuel needs of the Tehran Research Reactor which produces radio medicine for cancer patients, IRNA reports.
The top Iranian diplomat, speaking before IRNA's news editors and managers, also announced that Tehran has sent letters to members of the UN Security Council (UNSC) on the recent US-sponsored resolution calling for new sanctions against the country.
Mottaki described the anti-Iran UNSC resolution as sort of a psychological warfare against Iran and stressed that the Security Council must be held accountable before the world public opinion as to the reasons they adopted the resolution, when no evidence has pointed to any diversion of Iran's civilian nuclear program.
The Iranian official also criticized the Security Council for its indifference towards the Israeli attack on the Freedom Flotilla aid convoy bound for the besieged Palestinian coastal strip of Gaza. Addressing the council's members, Mottaki blasted their silence and lack of action towards "another obvious crime that a regime [Israel] committed by violating international regulation and killing innocent humans in international waters."
Mottaki added that Tehran is preparing responses to questions raised by the Vienna group, the US, Russia and France, and will soon submit its official reply.
He noted that Turkey and Brazil had already entertained questions from the Vienna group concerning the Tehran Nuclear Declaration, according to which Iran agrees to a fuel swap deal in Turkey.
Responding to a question on the possibility that the P5+1 group, five permanent members of the UNSC and Germany, may reject Iran's new conditions for dialogue, he said, "These are not conditions that they can reject."
Iran's new conditions, spelled out by President Ahmadinejad on Monday, calls for a clarified position on Israeli nuclear arms as well as the status of Iran in the negotiations and the inclusion of Turkey and Brazil in fuel exchange negotiations with the Vienna Group.
On whether Iran's new conditions would serve as the final negotiating opportunity for the West, Mottaki said there are no deadlocks in diplomacy and "we will create opportunities." However, he added, the P5+1 group must rid itself of its limited circle and look for some sort of expansion.
On the US abduction of Iranian scientist Shahram Amiri from Saudi Arabia, Mottaki insisted that US lies were exposed in this case. The American government, he said, first claimed that they had no knowledge of the matter, but it was later revealed that Amiri was being kept in the US.
The foreign minister emphasized that Iran will continue its efforts, through its embassy in Saudi Arabia, its interests section in Washington as well as other channels, to return Amiri safely back to Iran and his loved ones.
Amiri was abducted in Saudi Arabia last June while on a Hajj pilgrimage to the holy city of Mecca. US and Saudi Arabia had originally expressed total unawareness about his case. He later sent a video message confirming his abduction as an attempt to use him as a bargaining chip against Iran in nuclear negotiations.