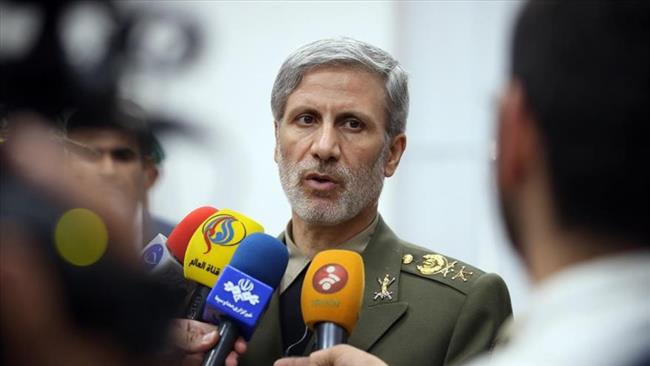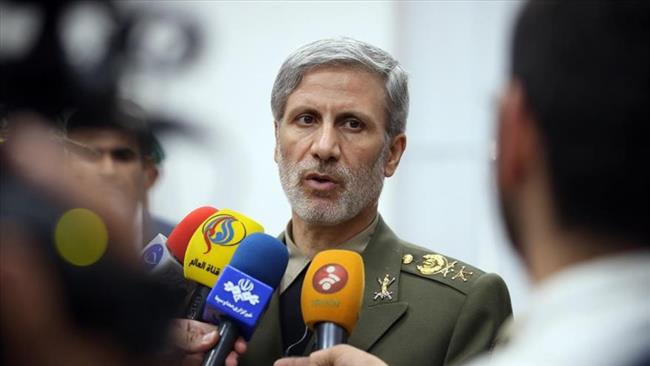 Defense Minister Brigadier General Amir Hatami says Iran will continue to support the resistance front despite Western efforts to dissuade the Islamic Republic from backing groups such as Hezbollah. 
In an interview with Arabic-language Al-Alam news network on Saturday night, Hatami said the resistance is rooted in the Islamic Republic's culture.
"Perhaps the main fear of the arrogant powers about our relationship with the resistance axis is that they do not want such a pattern to see the light of day," he said.
"Resistance means defense in the face of the arrogance and confrontation with tyranny and oppression. According to our religious teachings, we do not accept oppression, usurpation, and aggression, and help those who resist in this axis on the basis of these teachings," Hatami added.
The minister stressed that Iran will continue to support resistance groups even more than before.
According to Hatami, Iran's national interests and security requires countering insecurity in the region to prevent its spread to other countries. The country, he said, has so far provided advisory support to Iraq and Syria at their governments' requests.
His remarks came as Lebanese Prime Minister Saad Hariri denied Israeli assertions that Iran had established weapons factories in Lebanon, saying the allegations were part of a "disinformation campaign" by Tel Aviv.
"The Israelis know very well that there are no missile factories in Lebanon. They are used to running these disinformation campaigns," Hariri told the French daily Le Monde in an interview.
Israel has recently claimed that Iran was trying to set up weapons production facilities in Lebanon.
On Monday, Prime Minister Benjamin Netanyahu told UN chief Antonio Guterres that Iran was also involved in the construction of another missile base in Syria. Netanyahu also claimed Iran was working to establish beachheads in Lebanon and Syria with which to attack Israel.
Israel is evidently angry with back-to-back losses of Daesh terrorists in Syria, Iraq and Lebanon. Apart from Lebanon, Hezbollah has been key to advances against Takfiri terrorists in Syria.
Israeli air force said last month it had struck suspected Hezbollah arms shipments around 100 times in Syria during the war.
Defense Ministry's agenda
Elsewhere in his interview, General Hatami said that Iran's Defense Ministry plans to boost the Islamic Republic's missile power despite the enemies' attempts to undermine it.
Iran has detailed plans in the field of air defense and electronic warfare and will focus on manufacturing heavy aircraft to bolster its strategic aerial might, he said.
"Defensive diplomacy is an important part of our plans. In a region, where stability and security are important issues, diplomacy and interaction definitely play a prominent role," he added.
Hatami referred to Iran's neighbors as well as regional and Islamic states as the Islamic Republic's top priority, expressing hope that Tehran could greatly help create stability and security in the region and establish mutual trust among countries through a defensive diplomacy.
Iran, he said, will export weapons to prevent wars, unlike other countries that sell arms mainly for their own economic and political interests.