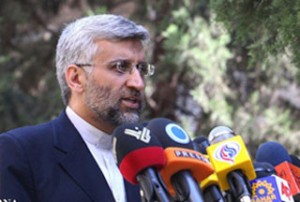 Iran's top nuclear negotiator Saeed Jalili says Tehran will be presenting its new atomic package to the Group 5+1 next week.
Jalili told reporters in Tehran that Iran is ready for new round of talks with the five permanent members of the UN Security Council — Britain, China, France, Russia and the United States — plus Germany (P5+1) on its nuclear program.
The comment came three days after Iran announced that it had prepared an updated nuclear package to offer to world powers and "remove common concerns" about its nuclear program in the international arena.
"As we have announced, we are ready for fresh talks", Jalili said.
He added that the past talks had been delayed due to the 'problems experienced by both sides'.
Senior diplomats from the six world powers met in Frankfurt on Wednesday and called on Iran to accept their offer of direct talks.
The powers have demanded a halt to Iran's uranium enrichment program, which they claim is aimed at building a nuclear bomb.
Tehran, however, has denied seeking nuclear weapons and has called for the removal of all weapons of mass destruction across the globe.
US President Barack Obama had earlier said that Western powers would give Iran until September to resume talks on its much-debated nuclear program.
The UN nuclear watchdog during its latest report confirmed that Iran is improving its cooperation with the agency and that the agency had been able to continue to "verify the non-diversion of declared nuclear material" in the country.